This page is all about the stuff I love and the brands that I support.  There will be links to products I commonly use, places I buy my stuff from, things I have tried & places I have been. I will keep updating it with new things along the way. Some of these links are affiliate links, most are not. Regardless, I wouldn't share it with you if I didn't think it was the goods.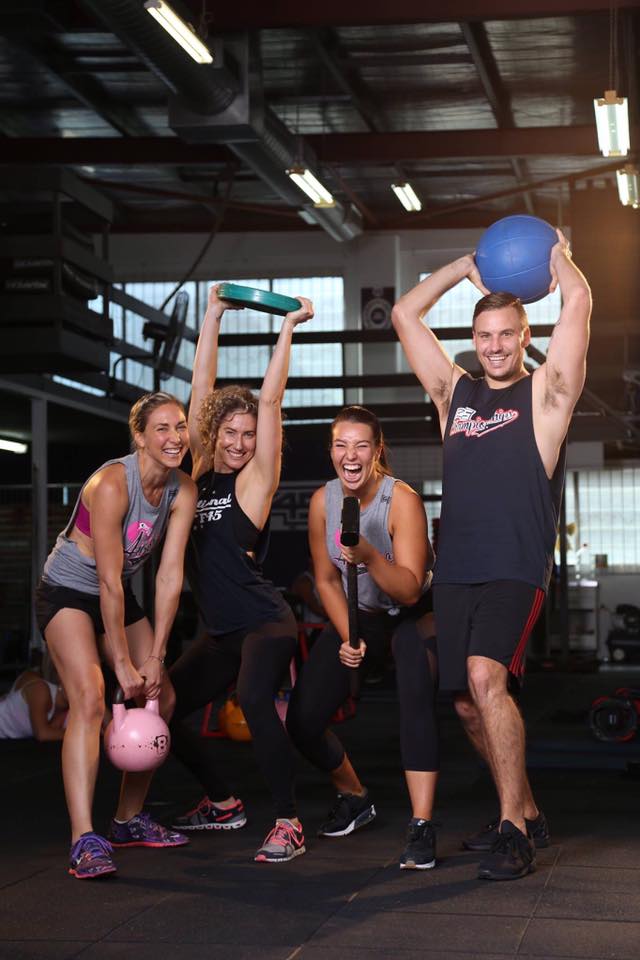 There are a few carefully selected brands that I am an ambassador for because they are great businesses run by great humans. I don't support any brands or products that I myself do not use, love and believe in.
PrimalThenics home workout program from The Health & Fitness Guy. I LOVE this. I can do it when I like, in a space that is the size of my loungeroom rug. No equipment required, great focus on mobility and movement for life. This stuff is fantastic for those of all ages and fitness levels and can be scaled to suit anyone. Short, sharp, effective.
Fortitude Boxing- No fluff, no air con. Just great coaches, real boxing and a great community.
Waterlily Skincare & Concept Store James St- I never liked facials until I discovered the Waterlily Experience. Holy crapola. It's heaven. The staff are amazing and the products are all handmade with real food ingredients but still have incredible actives in there that make your skin feel a million bucks! You can see all the products I am using on my instagram highlights. You can use the code SHAN10 to get 10% off your online purchases.
Crema Coffee Garage- Because coffee is life and it's also one of the most pesticide sprayed crops in the world. The gear I get here is the Montezuma blend. It's fairtrade, organic and tastes like unicorns dancing on your tongue. I also got my coffee machine here. It's compact, easy and keeps me caffeinated.
Doterra Essential Oils- I use this on the daily at home for diffusing, in cleaning products, to calm me down and to ward off viruses and bacteria when anyone is sick. My all time fave is Lavender Peace which is folding known at my "calm the fu&k down" blend and we always have OnGuard and Easy Air at all times. You can find out more about oils here and order if you want to or sign up for your own wholesale account.
Kitchen Stuff-
Fermenting Crocks, Linen and gorgeous handcrafted tableware from Kinfolk & Co. It's all locally made in Byron Bay and makes the perfect gift idea or special piece for home. The fermenting crocks make the BEST kraut ever!
I freaking love my SPIROOLI it is how I make my zucchini noodles and anything else I want to noodle. Yes, you need one.
I bought this Ice Cream Maker on sale for $90, it is totally worth it to be able to make your own healthy ice cream and really, it is about the same price as buying 8 tubs of CoYo ice cream. Just do it.
Tough to find Ingredients-
Coconut Aminos is a paleo version of soy sauce and is the shiz! I get mine HERE.
Bone Broth Concentrate from Meadow & Marrow when I CBF'd making my own.
Coconut milk yoghurt from Pure N Free is by far the best I have found.
All the fermented goodies from Kehoe's Kitchen and Green St Kitchen.
The World's best muesli & choc granola hands down comes from Paleo Hero. Order it by the carton & save 10%.
Gelatin & Collagen is amazing for gut, skin, hair & joint health and will save you getting botox. I get mine from iHerb and the code GBD599 will get you $10 off your first order. I add the collagen to my coffee, tea, smoothies, kombucha, bliss balls, soups etc. It's flavorless and dissolves in cold liquids.
Coconut Water from Raw C because it is the lowest sugar.
Coconut cream & milk from AYAM, it's the only one I can find with no other added crap.
From discounted chia seeds to supplements, vitamins & more iHerb is worth a look. Use my discount code GBD599 to get $10 off your first order.
Books –
Holistic Nutrition by Kate Callaghan is a brilliant, easy read that gives you the low-down or eating, training and stress managment.
This book rocks if you want to Quit Sugar.
A Healthy Body Starts with a Healthy Mind is an excellent one for anyone who has struggled with food & exercise in any way.
The Dark Side of Fat Loss is a great read, super easy to get your head around and makes you realise how much bad information there is out there about nutrition.
Rushing Woman's Syndrome was a game changer for me, it made sense of so many things that were going on with my hormones & my body & helped me to finally realise that sometimes more is not always better, it's just more.
Health Providers-
Naturopath Sarah Henschel is brilliant and works out of a few Brisbane locations.
I have a brilliant holistic GP at Teneriffe who is very focussed on dealing with the root cause of your problems rather than just prescribing something to act as a band-aid. If you have anything that has been lingering or re-occurring issues I'd totally recommend checking them out.
I love my chiro at Windsor Family Chiro. Very holistic, very gentle, no crazy manipulations. I was never into chiropractic until I met Al a few years ago, now I'm a regular.
Infra-Red Sauna & massage.The place I go to is THIS ONE and they have this amazing IR Sauna where you can chill out while you while blasting your toxins. Do yourself a favour & go try it out. You can read more about the benefits of IR sauna HERE.
The team at The Health Place are freaking awesome. If your body needs a tune up, you have a niggling injury, need nutrition advice or just want some YOU time, these guys are a one stop shop.
Fitness Facilities-
If you are looking for great gyms with awesome trainers who know their $hit you need to check out Function Well & Hammer Athletic.
I am a HUGE fan of HIIT training and my go-to place is F45 Newstead & Stafford. Nina and the team are some of the best humans you will meet.
My fav Crossfit affiliate is City 4051 and Athletic Zone for brilliant coaches & an encouraging environment.
Hot Yoga fans will want to check out Harlow Hot Yoga it's not Bikram so you won't feel like you are going to die trapped in a room that is far too hot for 90 minutes. I love this place & guess what, if you email enlighten@harlowyoga.com.au and say I sent you you will get your first class free, save yourself $25, you are welcome.
Reformer Pilates has been a game-changer for me post-baby in terms of core strength & knee stability. This place is is basically a form of legal torture that will have you shaking, sweating and swearing but you'll love it. I promise. Studio 45, if you walk in and Tara is your instructor you're going to want to run. Fast. She's the devil.
Podcasts-
Balanced Bites these chicks have a great balanced approach to health, wellness & nutrition.
Underground Wellness this guy interviews the best of the best in the fields of health, fitness & wellness.
If you have not found The Fatburning Man you really need to get onto it, he interviews some amazing people and has a dead-sexy voice.
From the guy who brought you the 4 Hr Work Week, The Tim Ferris Show is a totally random podcast with some amazing interviews with super interesting people on a huge variety of topics.
For the geeks out there I also love Chris Kresser's podcast. It's very science based, sometimes a bit heavy in terms of data and clinical info but if that's your jam he presents a great very balanced and non-extreme opinion on all things health & wellness. Check out Revolution Health Radio here.