These gummies should wear a cape. And undies on the outside of their clothes. And transform in a telephone box…… actually, hold up, do they even exist anymore? I don't remember the last time I saw a phone booth now that I think about it? Anyway, not the point. These gummies are superhero's. If you have trashed your guts over the silly season, been on prescription medications, had a tummy bug, are feeling run down, or just need a bit of gut-lovin' then these are for you. You can choose your own adventure with the flavours, you can pimp them with any, all or none of the extras. Little kids dig 'em, big kids dig 'em and all that amazing collagen works wonders not only on your gut but also your skin, hair, nails, joints, muscle recovery…. Plus it's cheaper than botox. I told you they were superhero's.
The gelatin I use is THIS ONE and this is the Kiwi Herb Echinacea I used.
If you need a bit of help getting your nutrition back on track after the Silly Season, Sofie and I have cooking workshops going on all over the place to help you do just that! If you are in the Northlakes area we have Food For Health & Healing workshop on at Kitchen Warehouse on the 24th Feb that's only $20 to attend! WHHHAAAATTTT! Those awesome peeps are Kitchen Warehouse are putting on this awesome workshop at a significantly discounted rate to show you how to make simple, healthy & delicious foods for you and your family! Don't forget to book your space because spots are limited!! Now on with the gummies….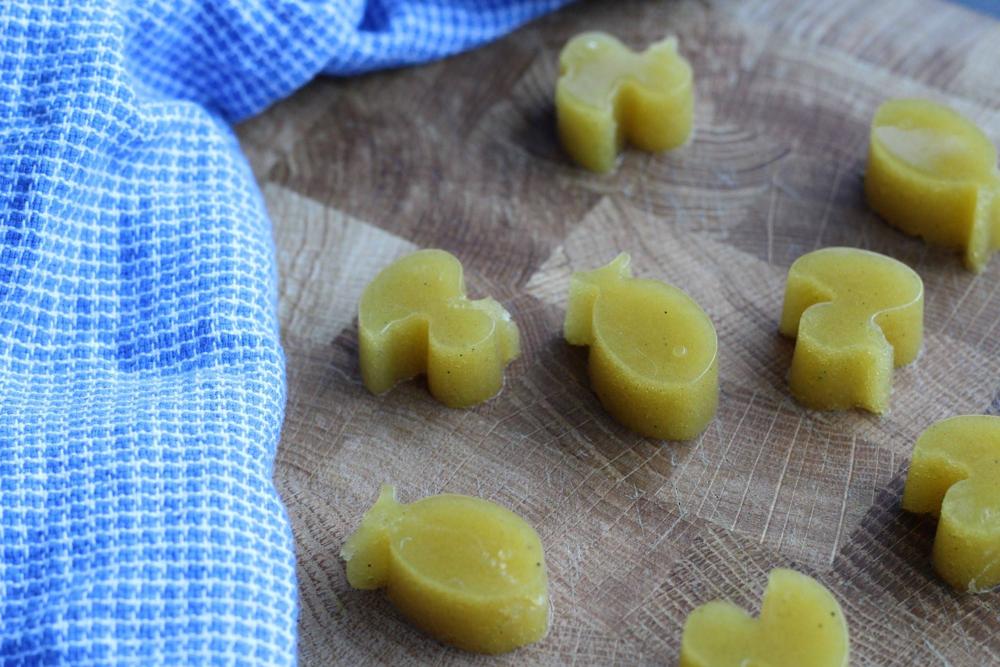 Superfood Gut Gummies
Ingredients
2

cups

mango (or fruit of your choice)

1

lemon

juiced

5

tbs

gelatin (I use Great Lakes in the red cannister)

1

cup

kombucha, kefir or water
OPTIONAL EXTRAS
3

tbs

Kiwi Echinacea for immune support gummies

1

stem

medicinal aloe vera, peeled

1

tbs

grated raw liver

1-2

caps

probiotics (just open the cap)
Instructions
In a bowl add the kombucha and gelatin, mix and set aside to allow the gelatin to 'bloom'.

Add your fruit, lemon juice and any of your optional extras to a food processor and blend until smooth.

Thermomix Option- Add the blended fruit and kombucha gelatin mix to the thermomix and set for 5 mins, speed 3, 50 degrees.

Stove Option- Add the blended fruit and kombucha gelatin mix to a small saucepan and heat over the lowest heat until all the gelatin has dissolved, stirring constantly.

Remove from heat and set aside to cool to room temperature. Once at room temperature pour into moulds or into a baking paper lined container to set in the fridge for at least 4 hours.

Once set you can slice if it's in a tray or remove from moulds. These can be stored in the fridge for up to a week or in the freezer for a few months.
26