A few months ago some top person introduced me to the colourful wit and excellent adjectives of Shannon from Shannon's Kitchen. Obviously I knew she'd be awesome because all Shannon's are and from that moment I knew I had to go all 'single white female' on her arse and harass the crap outta her until she became my cyber friend. Perserverance pays off peeps and I'm here to tell you that stalking gets you everywhere…… I'm sure she's not serious about the AVO.
Anyway, here's her recipe for friggen delicious salmon. You'll love it. The 'glaze' is especially delicious, I loved it so much I pretty much drowned my whole plate in it.
Ingredients: for 2
The glaze: herein known as 'the glaze'
– 1 teaspoon dijon mustard
– 2 tablespoons honey
– 1 tablespoon balsamic vinegar
– a wee knob of butter/ghee/coconut oil, melted (haha – wee knob)
– a tiny little handful of roasted macadmias, finely chopped
Dressing for the broccolini: herein known as 'the dressing'
– 1/2 teaspoon wasabi paste (if you like more zing, then add more)
– 1/2 teaspoon maple syrup
– 1 teaspoon sesame oil
– 1 teaspoon balsamic vinegar
– 1 teaspoon tamari (Or coconut aminos)
The rest:
– 2 fillets of salmon
– fat/oil of your choice for stirfying the broccolini (I chose butter)
– 1 apple, cut it like this: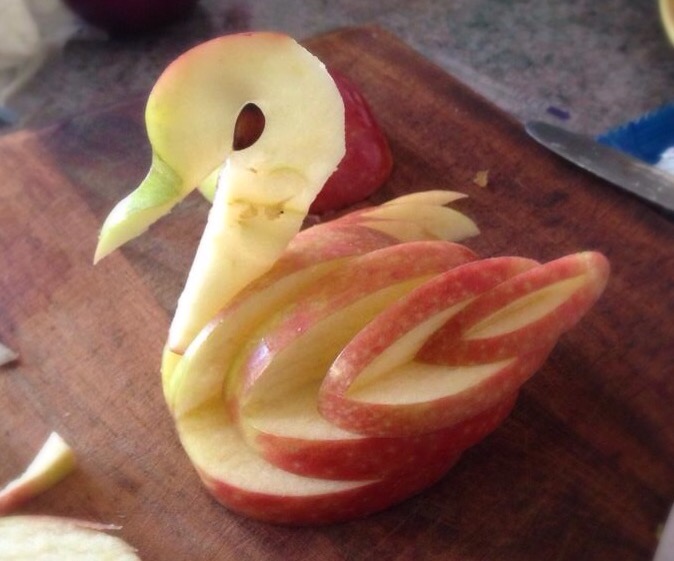 I'm just fucking with you. Cut him so he makes four nice little flat flat pieces (so you'll have to either eat or toss the rounded ends), which you arrange lengthwise to make two little beds for the salmon.

Get it on:
– oven, get on the job mate, and get cracking at 200, this is serious shit
– to make 'the glaze', start a party between the dijon mustard, honey and balsamic vinegar, and mix it up good
– to make 'the dressing', just stir all that shit together (the wasabi paste, maple syrup, sesame oil, balsamic vinegar and tamari)
– lay your apples out on a baking-paper covered tray, so that they make a suitable receptacle for the salmon. Then glaze those little fuckers with 'the glaze'. Pop them in the oven for about 5 minutes, so they can get warmed up before the salmon comes in all macho and ready to go
– alright, get the apples out again, and re-coat them with 'the glaze'. Now tell the salmon to go all missionary on that apple, get him right up on top. Brush those cheeky little fillets with the melted butter and then coat well with 'the glaze'
– now sprinkle your crushed macadamias on top of the salmon, to give it the sort of crust you would see in excessively worn underpants
– cook at 200 for 18 minutes (give or take – if you like it a bit more/less pink then you take charge and get your pink levels right)
– when there is only a matter of minutes to go, heat up a frypan/wok on high heat
– stirfry your dear little broccolinis for a few minutes
– when it is time, get your bedded salmon out of the oven, but let him have a little rest there for a few minutes before banging him and his apple-bum on a plate. Anything that remains of 'the glaze', dribble onto the salmon
– now get your broccolini on the plate, and drizzle on 'the dressing'. Make sure to get a few askew spots on the plate, so it looks MasterChef'ish
– you are done. Fucking easy!
3