Muesli Bars. They are usually the things that are grabbed from the supermarket shelf because they look 'healthy' or they are 'organic' or the have some super fab label that tricks us into thinking that these are actually a legit form of nourishment. They're usually not. Mostly they are loaded with preservatives, stabilisers, crappy vegetable oils & $hit tins of sugar masquerading as a health food bar. These homemade bad boys require slightly more effort than grabbing some from the shops but they are tasty, nutrient dense and freeze really well so I suggest making a double batch to pop in the freezer for later on!
I have used oats in mine, I grabbed the gluten-free ones from the health food shop but if you want to sub out the oats you can swap them for quinoa flakes, more puffed brown rice or puffed amaranth. Whatever spins your tyres. Hemp seeds are a fab source of protein and omega fats 3, 6 & 9 and are loaded with antioxidants. I get THESE ONES. Tahini is a bloody top source of calcium and is also a great nut-free option but you can sub that for any other sort of nut butter you fancy. Don't like carrot? Use grated apple or pear instead. No biggy. You can basically choose your own adventure here, add in other dried fruit, nuts, coconut, seeds, choc chips, you get the jist. You do you.
If you watch my instagram stories you will know the tragedy that befell these bars as I was carrying them very poorly to photograph them…. They ended up all over the floor, smashed, squashed, broken, much like my heart at the time from seeing good food go to waste. LUCKILY I had just finished mopping the floors so they were all clean & I managed to save some of them. Then I had to make another batch for the kid and as you can see below I added some pumpkin & sunflower seeds to that because I was feeling adventurous. These would also make cracking cookies if you just wanted to form them into cookie shapes and bake until golden brown.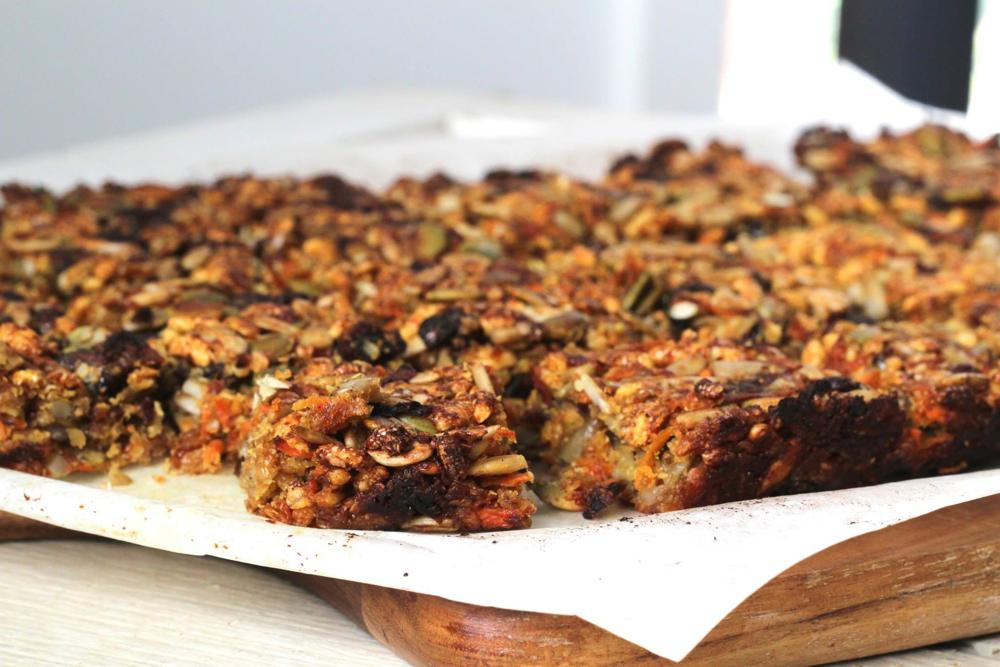 Carrot Cake Muesli Bars
Ingredients
3/4

cup

mashed banana (or 2 eggs)

3/4

cup

coconut oil/butter/ ghee

1/2

cup

tahini (or other nut butter)

1/4

cup

honey/ maple syrup/ rice malt syrup

1

tsp

vanilla extract

1

pinch

salt

1

cup

oats

1

cup

grated carrot

1/2

tsp

cinnamon

1/2

cup

hemp seeds

2

cups

puffed brown rice

1/4

cup

cranberries (optional)
Instructions
Preheat your oven to 170C. Line a baking tray with baking paper.

Melt together the honey, vanilla, tahini & coconut oil. Once that has all melted, add in the mashed banana & stir well then set aside.

In a large bowl add all the remaining ingredients and mix well to combine. Pour over the wet mixture and mix well until completely combined.

Pour into your baking paper lined tray and bake for 50-60 mins until golden on top. Remove from the oven and allow to cool on a baking rack.

Once it has cooled to room temperature, transfer to the fridge to set for at least 4 hours before slicing. If you try and slice it straight away it will crumble all over the place. Don't say I didn't warn you. Once it's sliced you can store in the fridge for up to a week or in the freezer for up to 3 months.
8