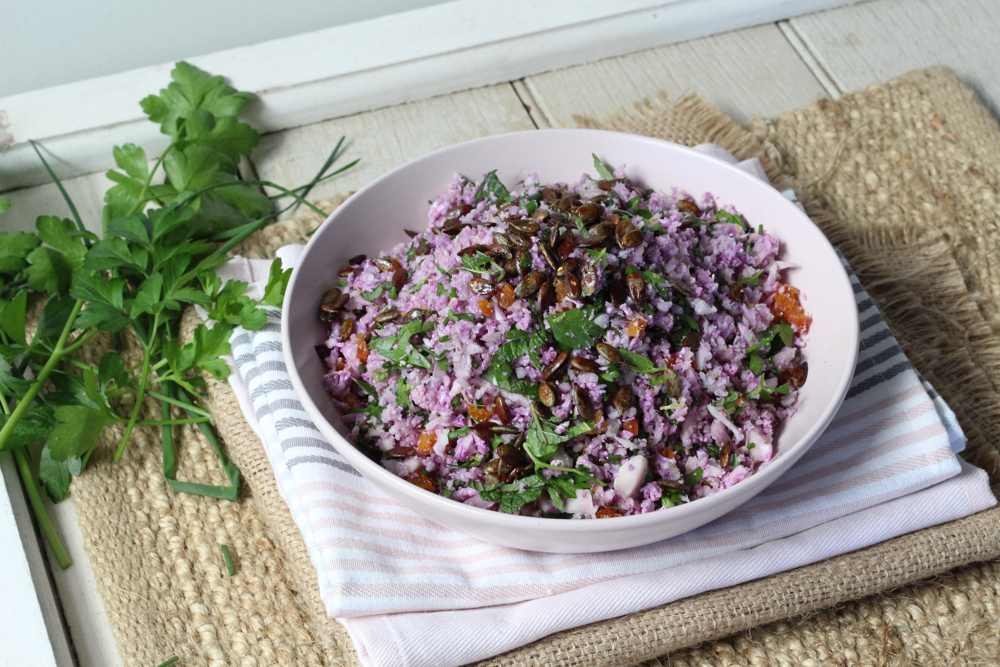 This recipe was inspired by the new menu at Wilde Kitchen that I scoffed down last week. There was SO MANY epic things on the menu but the Pilaf was one I knew I needed to take for a spin at home so I made my own version. Now I don't want to be the fun-police and tell you there is no more joy, there is only cauliflower but you've got to admit, this farty-smelling cruciferous veggies sure is a chameleon when it comes to what it can be. I mean there's the pizza base, I have to admit I don't feel like this was it's finest hour, the mash, which I am a huge fan off but let's be real, it needs a good helping of butter in there to get it through and salt because like swearing, salt enhances everything. I'm no potato-hater but sometimes you just need something a little lighter and this works a treat. Then there's all the forms of rice/cous cous/ pilaf/ risotto etc that I think is really where this humble white veggie shines. I have nothing against rice but I do think if the choice is a plate of rice or a plate of veggies, the veggies are kicking ar$e in the nutrition stakes errry single time, plus veggies help you poo and if you don't poo you die. So there's that. Plus cauliflower cooks WAYYYY faster than rice so when you ain't got no time cauliflower comes up trumps.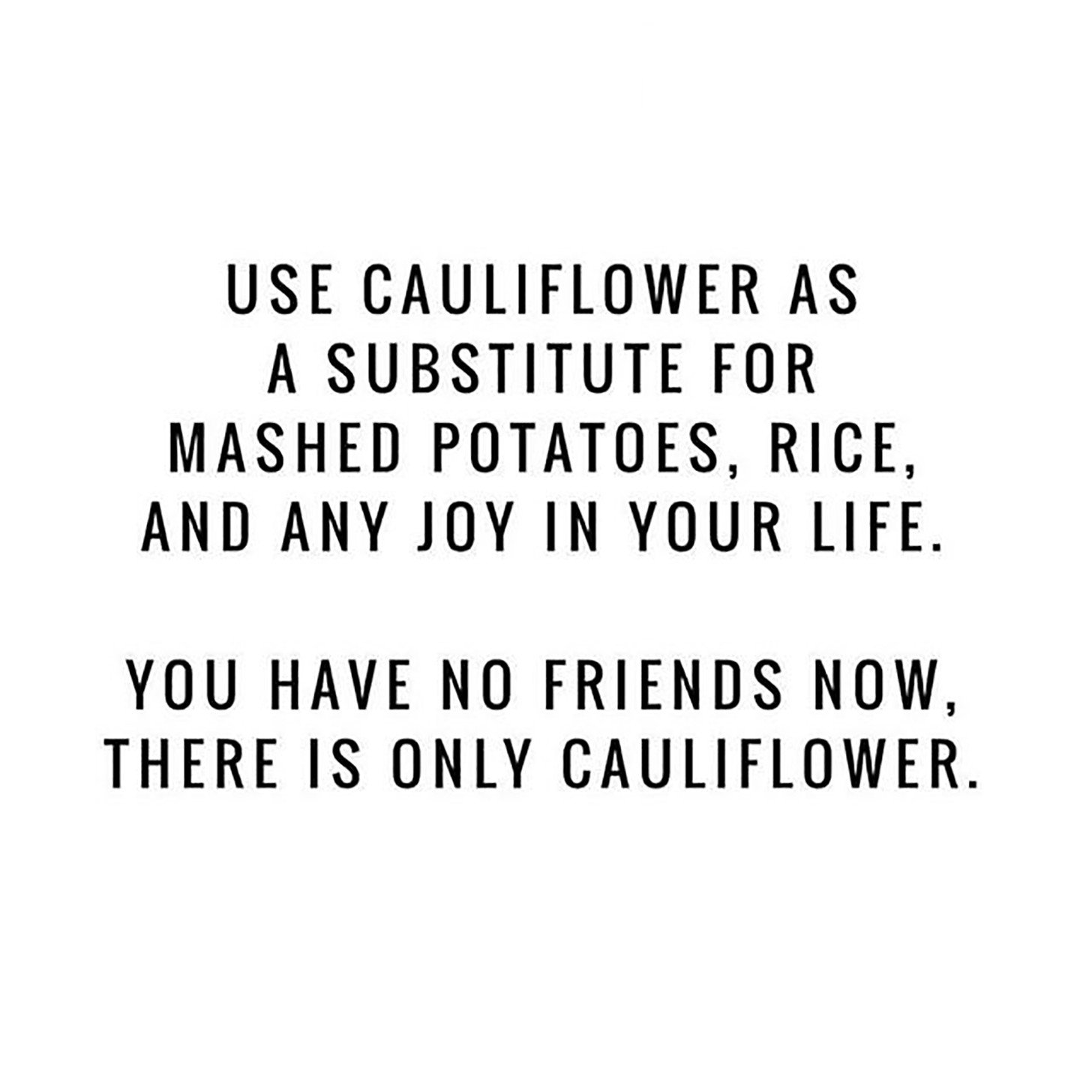 Cauliflower Pilaf
Ingredients
Pilaf
1

small head cauliflower

riced

Zest 1 lemon

Zest 1 orange

2

tbs

chopped fresh mint

2

tbs

chopped chives

2

tbs

chopped parsley or coriander

1/4

cup

finely chopped dried apricots or cranberries
Dressing
Juice 1 lemon

1/4

cup

olive oil

1

tsp

fresh grated ginger

1/4

tsp

salt

2

tsp

sesame oil

optional

1

tsp

honey
Instructions
First up you are going to want to 'rice' your cauliflower. You can do this a few ways but by far the laziest and least mess involves popping the florets into a food processor and pulsing a few time to get to the consistency and size of rice. Don't over blend it because you'll end up with a pile of mush. You can also grate the cauliflower on a box grater..... messy as fu*k but effective or, you can just use a knife to chop it all up- takes shit-tins longer but you'll get there in the end.

Once the cauliflower is riced just pop it aside and add all the other pilaf ingredients and mix well.

Add all the dressing ingredients to a jar and shake that biz up until its well combined.

Heat a large frying pan over a med heat and add a blob of butter/ghee/coconut oil. Once that's melted you can add in your pilaf mix and cook, stirring constantly for a few minutes until warmed through. Don't over-cook it because again, it's going to turn to mush.

Pour over the dressing ingredients, mix well and serve.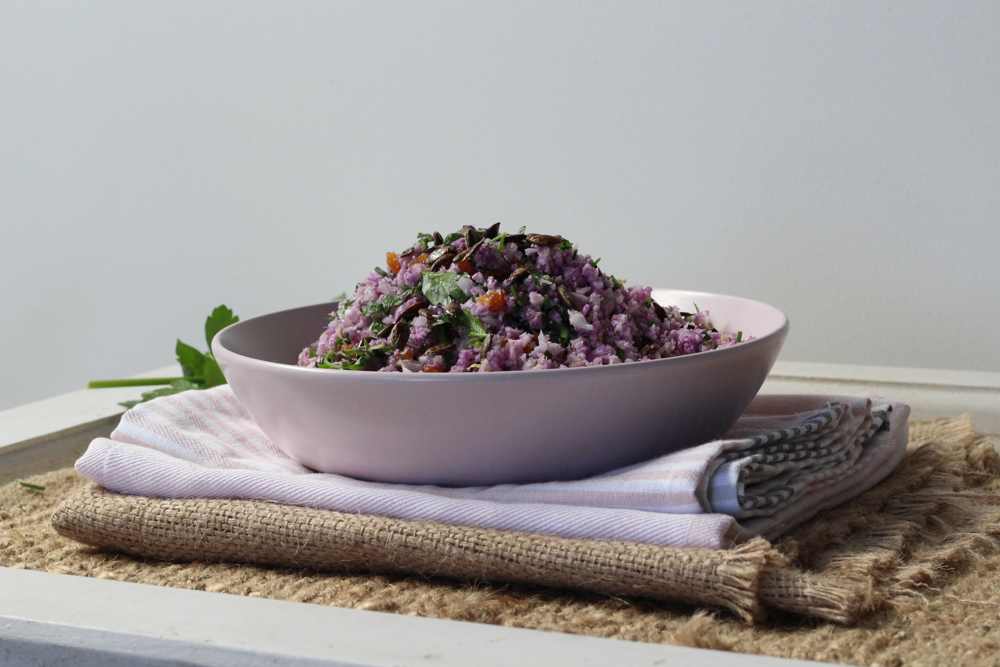 9