'Holy cr@p, check out those ab's'….. Was one of my first thoughts when I first met Revie Jane  about 12 months ago. Followed closely by 'what do you mean she is only 23 years old??'.
This amazing young entrepreneur is the founder of Crossfit Babe Miami , an all female crossfit box on the Gold Coast, a huge inspiration to thousands of Instagram & Facebook followers, Lululemon ambassador, athlete, and, most recently, the author of her new book, Dream Big Chase Hard where she shares the struggles of her upbringing, her philosophies on food, fitness & life, and allows her readers to see exactly what makes this gorgeous young woman tick.
I was lucky enough to receive a copy of the book and was both surprised and inspired her story and I think you will be too. Here's a taste of Revie's story and be sure to jump on over, check out the BOOK and follow her on FACEBOOK or INSTAGRAM.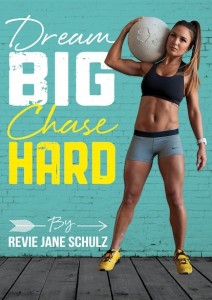 * How did the book idea for Dream Big Chase Hard come about?
Dream Big Chase Hard was something that naturally occurred over the past 12 months. I knew I wanted to share my story and experiences in the hopes to inspire those I cannot see or visit in real life. I share the highs of my life everyday but I wanted to show people there have been some dark times as well. I also noticed there was a growing number of questions on my social media accounts, which held answers that deserved more than an Instagram comment. I started writing these questions down and answering them with the best of my ability and voila! The ebook is a great source for quick workouts, nourishing meals or just a platform for a positive frame of mind. I want to be the rare but empowering example that no matter who you are, you have not good but great potential and can make the world a better place.
* You are living proof that people don't have to accept the status quo and become a product of their circumstance and environment. Can you give people a brief insight into your childhood?
Growing up I learnt to be independent fast. From 13 years old, I didn't have any support emotionally and financially from the people in my life and basically I put myself through high school by working as a waitress after school and as a retail assistant on the weekends. I was very alone in this difficult period of time. I suffered a great deal of depression and anxiety through my teen years, there were a lot of unanswered questions as I tried to figure out an identity for myself.
I dug myself a big hole of negativity and I had no idea how I was going to ever get out of it, my self worth was nearly non existent. By using a positive and grateful mindset that I demonstrate in the ebook, I was able to build a better life for myself. There were times I was sure I would fail but I am so happy that I persevered as the life I live today contains so much happiness, fulfilment and love. I do not blame anyone in my life for my past, I am just grateful for what I have and that really seems to have worked out for me.
* Health & fitness is obviously your passion. What are your top 3 tips for those who are yet to find their fitness mojo or need help getting back into it?
Tip 1- Find something FUN!
if you don't enjoy something and you don't get a thrill out of doing it, chances are, you won't stick to it! Find something you love and get a kick out of, by the end of a session you'll want to go back for more. If you struggling to find it, keep looking, try new sports and one day you'll find the fitness activity for you.
Tip 2- Be patient
I personally can be impatient with results, but giving your body the time and space it needs to get back into it or start is really important. You cannot demand something of your body it is not used to immediately. Which leads me to my third tip!
Tip 3- Celebrate each achievement
No matter how big or how small your achievement for the workout is, CELEBRATE it! Acknowledging your progress is vital, without it you are likely to give up or become unhappy with where you are at. Whether its running your first 5km, doing a yoga pose you've never done before or squatting 30kg, ensure you are grateful that you and your body have worked together to make that happen.
* Crossfit can be really intimidating to many people, especially females. How would you describe the environment at Crossfit Babes?
I understand completely how intimidating new environments can be. I dreamt of creating an environment where each woman supports the next, no matter how different their goals were. I wanted a community of chicks from different backgrounds, occupations, roles in their families to empathise, encourage and support each other through everything: goals in strength, running, triathlons and then hoping it also transfers to situations outside the box.
With the community that I have today at CrossFit Babes Miami that dream came true. I am so thankful the women in my life and am very lucky to have them make my dream come true.
There are also some little rules to eliminate any sort of initial awkwardness between any new comers. For example, I installed a rule at CrossFit Babes where if you haven't met someone before you are to introduce yourself during that session and if you cant tell me their name and something about them by the end of the session you have 50 burpees as a penalty.
* You have a pretty hectic training schedule, especially with the Ironman coming up, how do you support your body in recovery and ensure you don't end up fatigued?
I fuel myself very well. I think nutrition and listening to your body is my biggest priority when I have a huge event like this coming up. No matter what is on in the day, I eat every 3 hours and ensure they are filled with clean, fresh and nutritious foods. My food for the day and 10 of my favourite go to recipes are all in the ebook Dream Big Chase Hard.
On top of that, I think sleep is also a key factor. With a heavy workout load/ training schedule this can be challenging at times, but I promise myself at least 6 hours every night.
* While exercise & movement is crucial to our wellness, it is only part of the equation. In Dream Big Chase Hard you shared your philosophy around food & nutrition which is very much aligned with mine. What is your go-to-slap-together-meal when there is slim pickings in the Revie Jane fridge?
Omelettes! They are so easy to make and they literally take 5 minutes tops to slap together.
Ingredients for my omelette when I am time restrained, usually include:
a handful of spinach/ rocket,
1/2 avocado,
1grated carrot,
1 chilli (I love hot food!)
* 2 words…. 'Paleo Treats'…. Friend or foe?
I know you hear it all the time, but it's the truth, it is all about 'In Moderation!' If you are having Paleo Treats as a snack replacement everyday, then I would say that is not ideal. However, a paleo treat on a Saturday night while watching a movie? I am all about it! And I tell my members often that just because it is Paleo doesn't mean it is good for you.
* I love to hear great book recommendations from like-minded peeps. What are the last 2 you read?
I am a super light reader. When I read, I want to relax so chick lit's are my favourite. My last two reads were "Rock My World" by Sharisse Coulter- Loved every page of it! Fun, exciting and it felt like real life!
"The Carrie Diaries" by Candace Bushnell- Sex and the City's Carrie in her younger years, it's the ultimate girly- girls read.
* What are the last 2 blogs you visited?
lululemon athletica's blog: HERE
WodNut: HERE
9