Heeeeyyyy!!! Happy New Year everyone. So I'm sorry it's been a while between recipes, to be honest I think I just needed a bit of time to get my kitchen mojo back after a pretty wild last half of the year. Anyway, I'm back. You're back. Let's do this.
Now, let's talk. How good is lamb. Seriously. That's a statement, not a question. You know lamb is the delicious little morsel that broke the 15 year vegetarian in me? Yep, 8 hour slow cooked lamb shoulder was the beginning of my soirée back to eating red meat. The smell of that deliciousness in the oven at a friend's place had my vego stomach doing backflips and high kicks wanting to get on board. So get on board I did, I started listening to my body again and it's been thanking me ever since. It's what I needed. That's not to say it's what you need….. Except for these cutlets. Everyone needs these cutlets.
1 tbs seeded mustard
2 tbs fresh chopped mint
2 tbs fresh chopped rosemary
Salt & pepper- a good whack
2 tbs melted coconut oil
10 lamb cutlets
Add all the ingredients except the cutlets to a bowl and mix well to combine. Spoon onto the cutlets to form an even crust on one side and set aside. The coconut oil should set a bit on the cold cutlets to help it all stay put. Heat a large frypan to med heat then place the lamb, crust-side down, onto the pan. now you can spoon some extra crust onto the other side. Cook for about 3-4 minutes before flipping over gently using a spatula to keep the crust intact. Cook for another 3-4 mins on the other side before removing from the pan.
That's it. Done. Eat. Enjoy.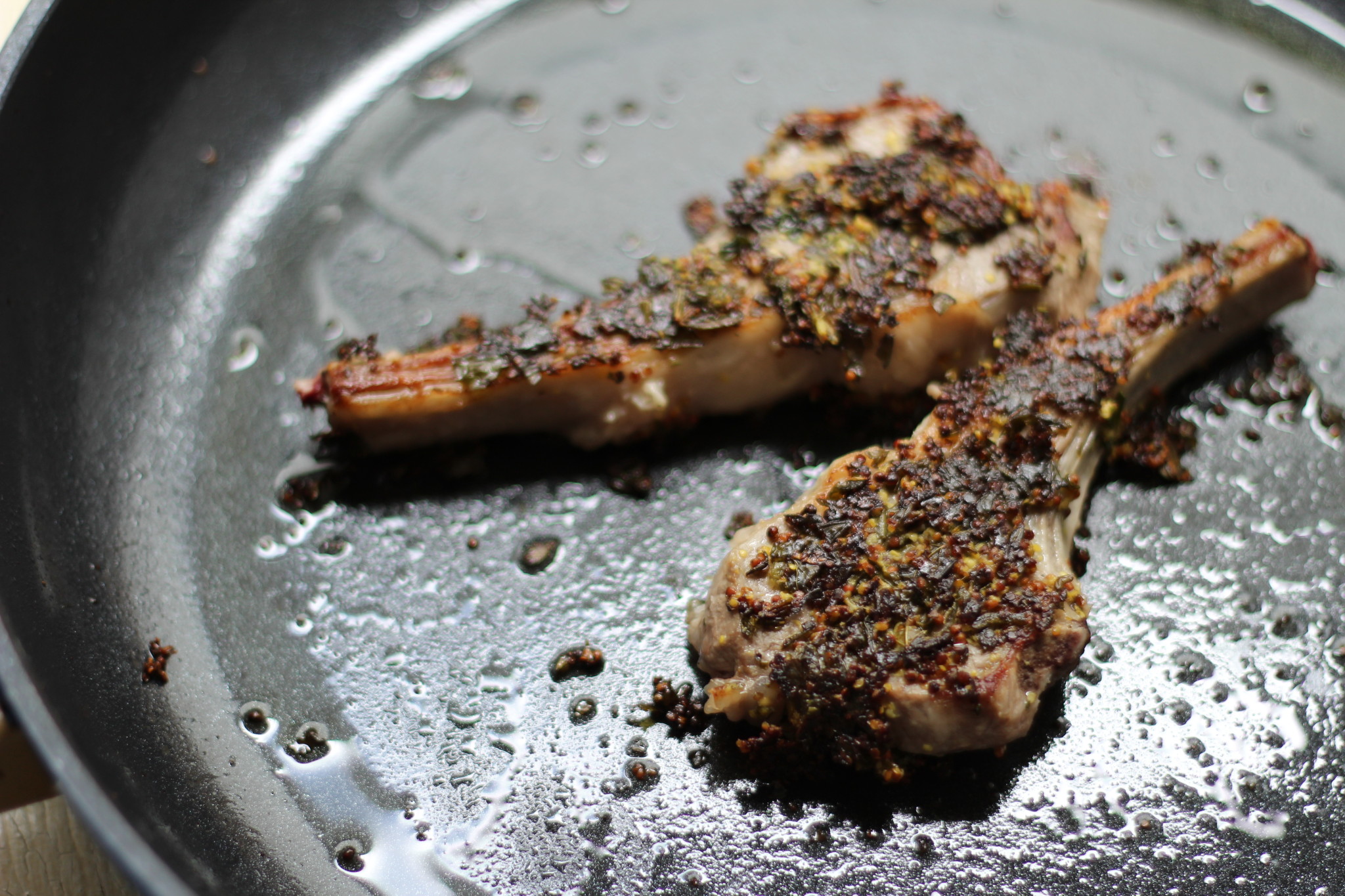 2