So I was approached by a big blog called Kidspot to talk about Paleo, then The Daily Mail. Well what a goddamn scandal. Who knew that NOT eating processed cr@p every day would upset so many people!? Well, actually, I did because people get upset at things that challenge what they think they know and things that might make them question their own choices. People also become VERY brave on the other side of their computer screen…. Even when they haven't even bothered to READ the article in question. As Ms Swift aptly sings,"And the haters gonna hate, hate, hate, hate, hate".
How dare I deprive my child of what is basically kindergarden grade glue (flour & water…. Also known as bread) as a staple in her diet in place of whole foods!! Man, I'm a jerk. Grace might end up with 'gluten-deficiency'….. Oh hold on, there's no such thing. Now don't get me wrong, what they left out of the article (OF COURSE) is that I am not going to have a melt-down if my kid shoves some bread down her gullet at some point, or eats a piece of cake at a kids party. If Grace (and I) eat things on occasion that are less-than-ideal, so be it but those things will not be making up the majority of our diet. Do I think a bowl of pasta is going to cause her or I major health problems? Hell no, BUT, what I do think, is that if she's chowing down on on a big bowl of pasta, she's not chowing down on a big bowl of veggies and they win in the nutritional stakes. Every. Single. Time.
There's a few things I'd like to rant about from up here on my soapbox. Firstly, this is NOT a strictly Paleo blog. It's a real food blog it's just that many of the things that I choose to cook (because it's MY blog) fall into that category of Paleo because that is what makes me feel good. Secondly, there is no ONE Paleo diet. There never has been, there is only your version of Paleo, based on a template, that works for you. The Paleolithic Aboriginies would have had a very different natural diet to the Inuits, or the American Indians, neither right or wrong but what worked for them based on what was available. Eating in this manner is not designed in any way to mimic our Paleolithic ancestors completely, rather provide a framework based on real food so that we can work out what works for us as individuals. Seriously, caveman had no Paleo cookies but I'm damn sure he would if he could. If dairy & grains make you feel good, fill your boots. My point is that no-one is reaching optimal health from coco pops, microwave pizza & Doritos.
Now before I have to hear one more time that WE NEED CALCIUM from dairy, how about a bit of education around that. Calcium is BUT ONE of the factors that influences bone health. Other integral & equally as essential things are magnesium, vitamin D, reducing inflammation that is caused by excessive sugar & processed carbohydrates, adequate collagen, vitamins A & K2. It's also worth keeping in mind that there are PLENTY of non-dairy sources of calcium that are an excellent option for people who don't tolerate dairy or choose not to eat it. That being said, no, Grace has not had dairy yet because she is still being breastfed & eats loads of other calcium rich foods, not to mention the fact that I don't tolerate dairy so it's not something I have at home right now, BUT, I will certainly try her with it in the future and provided she tolerates it well then I think it can be a very healthful food. As with all food, quality matters, so I will look for the best quality organic dairy I can for her but you can do whatever floats your boat. Here's a great graphic from Eat Drink Paleo to show non-dairy calcium sources.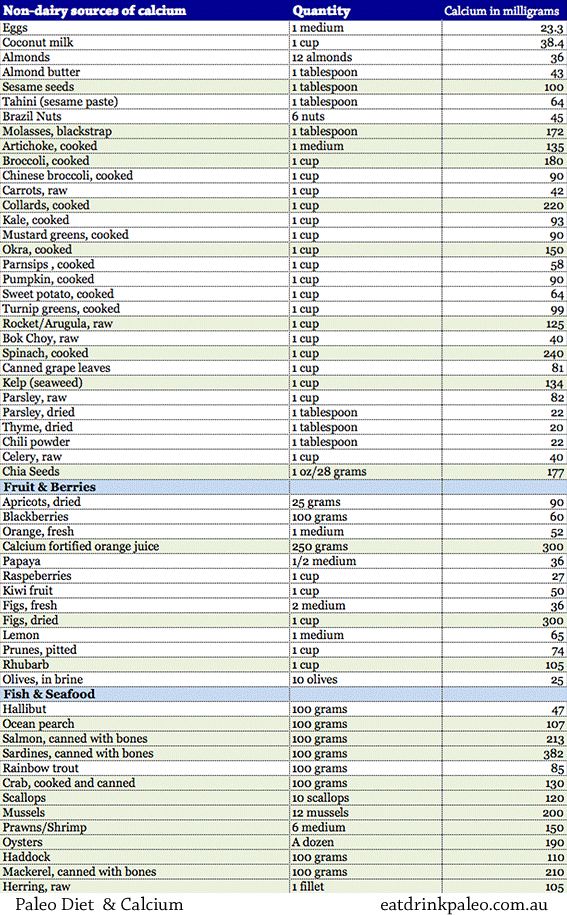 Anyone who actually knows me, knows that I am not dogmatic in my approach and if you've been following me for a while you would know that I am far more passionate about improving your health in whatever way that looks like for you than preaching about the evils of non-Paleo foods. The purpose of this blog is to help you get back in their kitchen and get back to eating real food in the hopes that it will improve your health & wellness. I love to cook & eat delicious & nutrient dense food. If that's not what you like, that's cool, no-one's forcing you to be here so with all due respect, rack-off.
Now I'm going to make like Tay-Tay & Shake It Off. Thanks for stopping by and a word of advice from my mum, 'if you have nothing nice to say, don't say anything at all', she's smart like that.
11