I've got to say it. I've outdone myself this time. Just TRY and only eat one piece! I DARE YOU.
This recipe came about because I went to The Source Bulk Foods to get salt. That's it. Just salt. Needless to say I'm going to need to ban myself from going there unattended again. Oh don't get me wrong, I got salt, two types actually because who doesn't need multiple types of salt….. I also got almond meal, coconut flour, cranberries, sour cherries, epsom salts, cacao butter, cashews, macadamias, coconut, pistachios, some sort of beetroot latte powder (WTF!?), some quinoa pasta, puffed brown rice, probably other things that I can't remember that I also didn't need. That place is an abyss of bulk bin heaven and every time I'd look in a new bin I'd think "hell yes I need puffed amaranth" despite absolutely NOT requiring such things. My wallet left substantially emptier but my belly is now very full PLUS you now have a recipe for this bundle of mouth-party joy because I had to find a use for some of these ingredients that I absolutely HAD to have.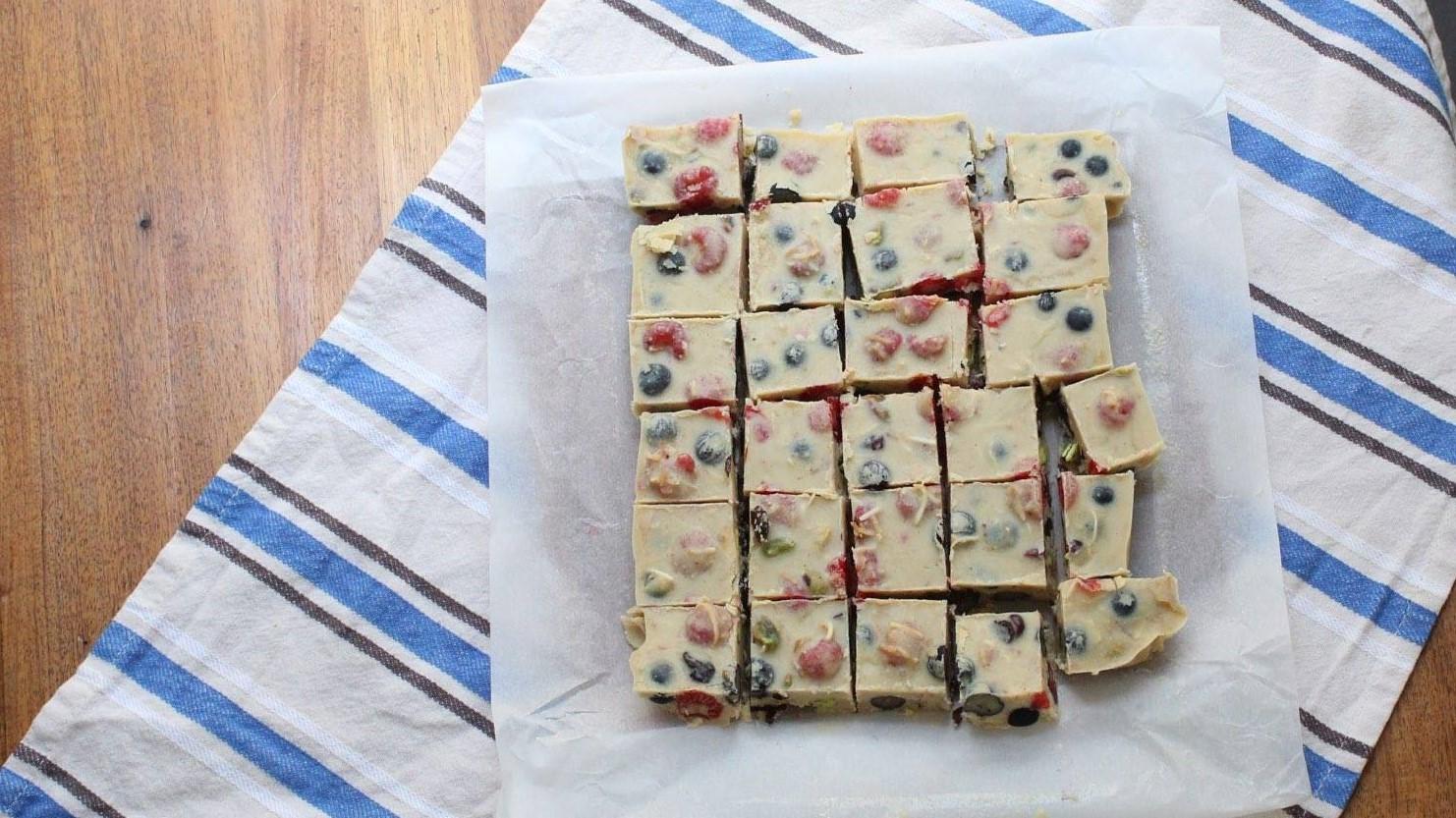 This reminds me of a cross between Darrel Lea White Chocolate Rocky Road & old school White Christmas. The beauty of this recipe is that it can totally be a choose-your-own-adventure kinda deal. Don't like macadamias? (Clearly you are a MASSIVE weirdo but I'm not here to judge…. but I kind am. Weirdo) but you can sub them for something else, same with most of the other ad-in's. Obviously don't mess with the base of cacao butter & cashew butter because you'll royally F things up but the rest, you do you. I had some raspberry kombucha jellies to add in but I got all overwhelmed with all the new ingredients and totally forgot about them!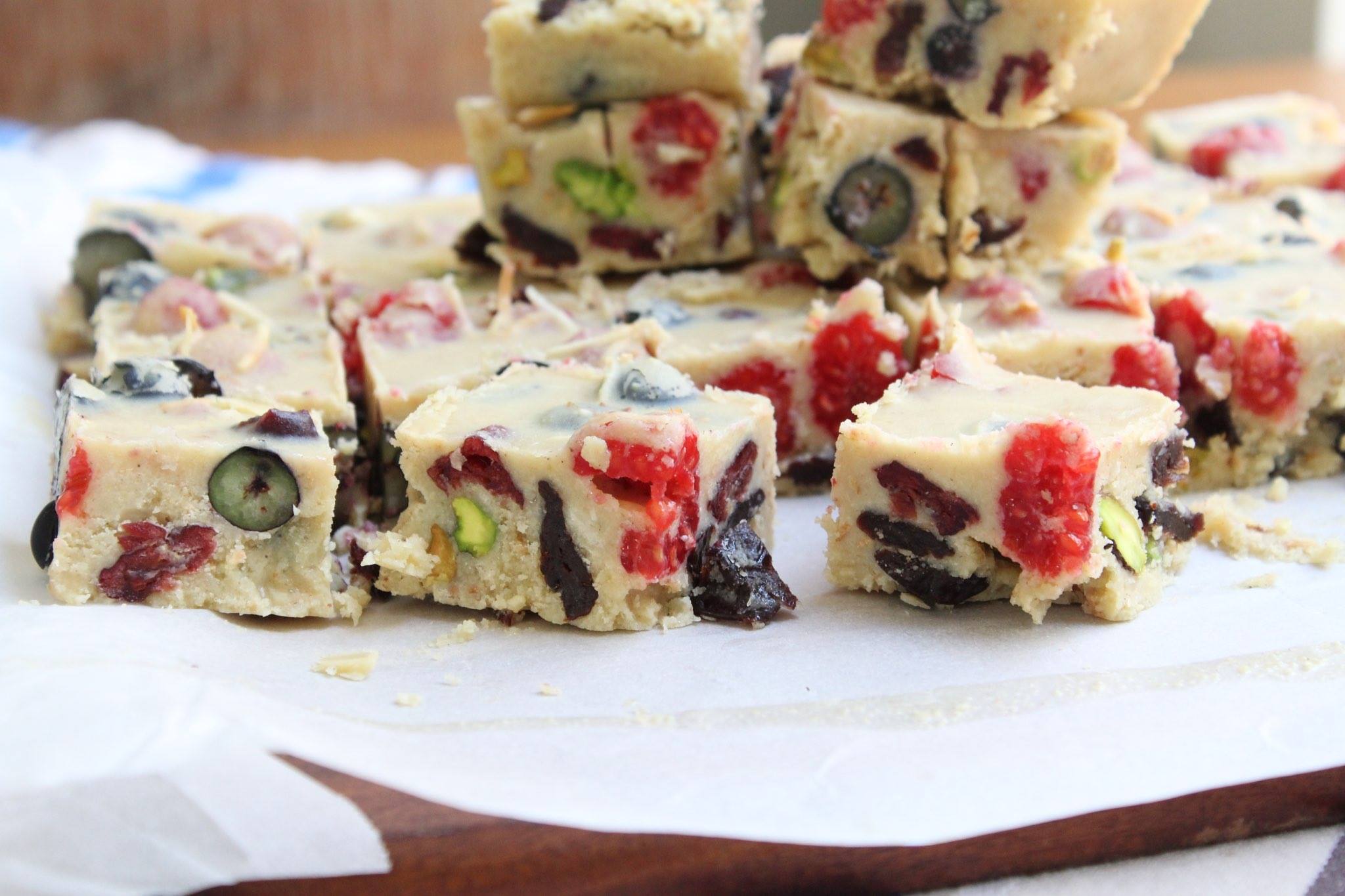 Anyhow, on with the recipe. Enjoy it & don't forget to tag me in any of your creations on FACEBOOK or INSTAGRAM!
Ingredients
1/3

cup

pistachios, lightly toasted

1/3

cup

macadamias, lightly toasted

1 1/2

cup

cashew butter

150

g

cacao butter

1/2

cup

dried sour cherries

1/4

cup

dried cranberries

1/2

cup

shredded coconut, lightly toasted

1

pinch

salt

1/2

tsp

cinnamon

1

tsp

vanilla extract

1/4-1/2

cup

maple syrup or rice malt syrup

(depending on your sweetness preference)

1

cup

fresh rasberries

1

cup

fresh blueberries
Instructions
Melt together the cacao butter & cashew butter in a saucepan then set aside to cool to room temperature.

Transfer to a large bowl & add the maple syrup and stir well to combine.

Gently stir through the remaining ingredients then pour into a baking paper lined tray. Pop it in the fridge or freezer to set before cutting.

This can be stored in the fridge for a week (as IF you're not going to eat it before then) or in the freezer for a couple of months.
25