Who remembers that choc caramel slice from when you were a kid? Biscuit and butter base, condensed milk caramel and melted cadbury dairy milk topping! So darn delicious but also probably 3567 grams of processed sugar which wouldn't be such a problem if you are one of those weirdos people who can just have one piece. Nosireeee not me. I'm a eat-the-whole-darn-tray kinda gal so the need to create something a little less diabetes-inducing and slightly more nutritionally sound is what brought me (and you) to this point. Now I'm not going to bullshit you, condensed milk caramel is possibly one of the most delicious things on the planet and this just isn't the same but it's a solid effort for a dairy, gluten & refined sugar free version.
If you guys have been following along over on my Insta stories you will be right up to date with the madness and antics of G and the new puppy Jax as well as the day to day goings on in my kitchen. My blog is the place where the actual recipes and pretty photos end up but please don't be fooled, this is NOT daily life. If you hang with me on Instagram you'll know that the daily meals are anything but beautiful, they are created with the least amount of fu&king around possible with maximum nutritional bang for your buck. I show you guys how to get more veggies in your life and ways to sneak them into kids (or partners) and rehash leftovers like a total boss.
I'm also heading over to the UK to run some cooking workshops at a conference over there in a couple of weeks and I'm not-so-quietly crapping myself. My standard approach to most things that stress me out is total avoidance of the situation. Like completely not acknowledging the pending incident will somehow sort itself out magically and I can just wing-it, then my anxiety starts to get the better of me and I stress myself to the eyeballs thinking about it BUT STILL DO NOTHING! I have presentations to prepare….. better make some choc caramel slice. True story. What the hell is with that? Anyhow, cross your fingers for me that I get my $hit together soon and any hot tips you have for me on dealing with that bloody brutal 23hr flight I'd love to hear, I've done it a few times before and to say I am dreading it would be an understatement! Anyway, here's your slice!
Choc Caramel Slice
Ingredients
BASE

1

cup

dessicated coconut

50

g

melted coconut oil/butter/ghee

5

fresh

medjool dates, pitted

CARAMEL

15

fresh medjool dates, pitted

100

g

coconut oil/ghee or butter

2

cups

full fat coconut milk

CHOCOLATE

1/2

cup

cacao butter or coconut oil, melted

1/2

cup

cashew butter (or nut butter of your choice)

2-3

heaped tbs

raw cacao (depending on how bitter you like it)

2-3

tbs

maple syrup/honey/ rice malt syrup
Instructions
Blend dates and coconut oil/butter/ghee in a food processor until smooth. Add coconut and blend to just combined. Press into a baking paper lined tray firmly.

Blend everything in the same food processor or high speed blender until smooth. Transfer to a small pot and bring to the boil. Reduce to a simmer and cook, stirring occasionally, for 5-10 mins. Set aside to cool slightly then pour over base and pop it in the freezer while you make the chocolate.

In the interests of keeping washing up to a minimum, use the same food processor again (don't bother washing it) and add all the ingredients and blend until smooth. Remove the caramel & base from the freezer, pour the chocolate on top and pop it back in the freezer to set for a couple of hours before slicing.

Once ready this can be chopped and stored in the fridge for up to 10 days (as if it's going to last that long) or the freezer for up to 6 months.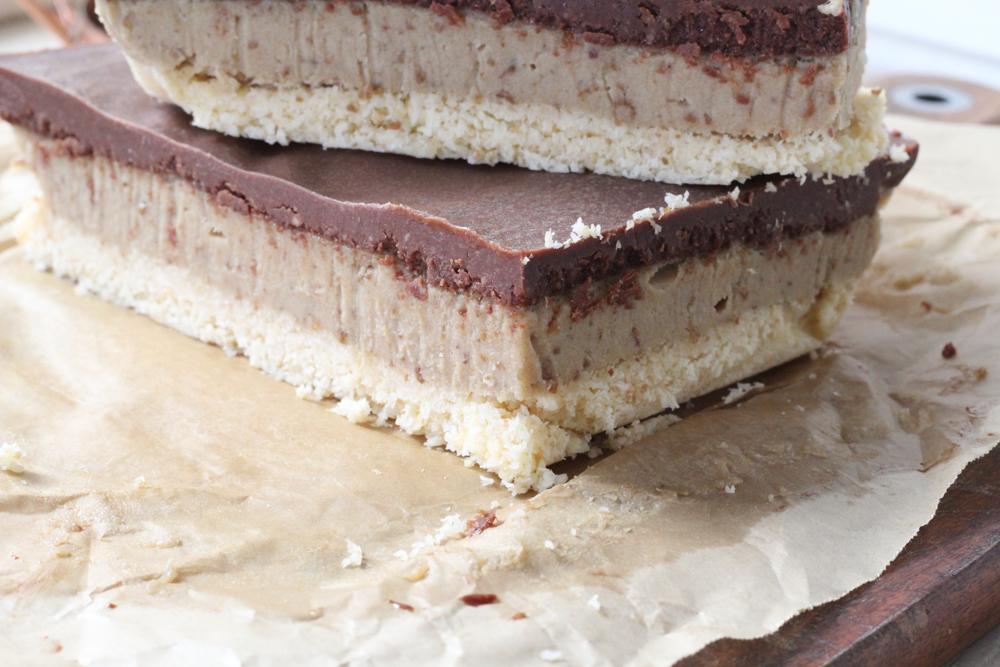 27