LCM Bars. They are just rice bubble bars right? Ah, wrong….I just took it upon myself to check the ingredients list on their website. Yikes! There's 6 different types of added sugars, 11 different numbers in the list which indicate artificial colours, flavours & preservatives (when did numbers become food??) and some good ol' hydrogenated soybean oil which in layman's terms is trans fat. DE-LICIOUS. Thanks Kellogs, ripper job nourishing the young bodies of today. Now I don't want to get all ranty, buuuut I'm probably gonna because this is just bull$hit. How is it ok for companies like that to market their utter crap franken-food to children & parents? No wonder kids have more ADHD! They are off their faces on sugar and processed $hit, how on earth do we expect them to be able to concentrate with that rubbish pulsing through their veins and inflaming their brains! Up & Go drinks. WTF. 3 different types of sugar, vegetable oils, 5 different numbers and almost 20g of sugar per serve, that's 5 teaspoons of sugar. It says it's 'high protein' with around 8g/serve. 100g of almonds (which is about a handful) has 21g of protein. How is Up & Go marketed as a healthy choice with a 4.5 healthy star rating? I'm going to say it again but what the actual fu&k people! No wonder people get confused about health and nutrition. Anyhow, that got a little out of hand but these bars are sans the processed crap, taste good and won't give you diabetes in one bite. The gelatin I use is THIS ONE.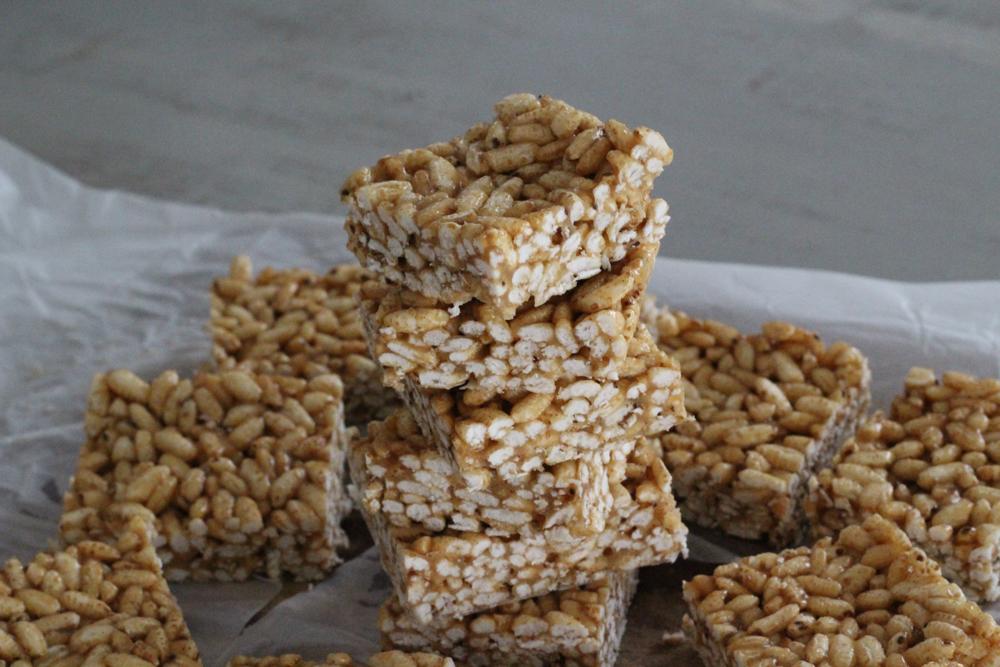 LCM Bars
Ingredients
3

cups

puffed rice

1/4

cup

water

1

tbs

Gelatin

50

g

butter/coconut oil/ghee

1/4

cup

tahini/almond butter/peanut butter

1/4

cup

honey

1/2

tsp

cinnamon
Instructions
Grab a small bowl and add your water, sprinkle your gelatin on top and set aside to allow it to 'bloom' for a few minutes.




In a small saucepan add the butter, tahini, honey & cinnamon and stir over a low heat to combine.

Once that mixture has combined, add in the gelatin mix and stir again until it's completely combined then remove from heat.

Pour the puffed rice into a large bowl then pour warmed mixture over the top. Stir well to ensure it's completely mixed through. Pour into a baking paper lined tray, press down firmly and place in the fridge to set for at least 4 hours before slicing.

If you want a crunchier bar you can bake before placing in the fridge on 180C for 20-30 mins until browned on edges. Allow to cool before placing in the fridge to set before slicing.
18