I'm giving up coffee for a bit. GASP!! I know. No, no-one held a gun to my head and forced me to say that. Some of you will have a very strong reaction to this news because coffee is your life force. It's mine too, except when it's not and now is just one of those times that I just don't think it's serving me. I generally only have one a day & I've given it up before for a while and now is another time I need to tune in and listen when my body is telling me to back the fu$k up from the caffeine.
I've been feeling anxious, sleeping really badly and I am just feeling super 'blah' at the moment. I'm tired as all crap all the time, my guts are messed up (hence the anxiety, did you know over 70% of the serotonin in our body is produced in the gut?), I go to bed early but I wake up EVERY BLOODY NIGHT between 2-3am and it takes me ages to get back to sleep. I am pretty sure this is my adrenals having a bit of a conniption because I am currently running around like a headless chook trying to get shit done. Between workshops, working, Baby G and life I just feel burnt out and I think a lot of this is because I like being on my own sometimes and I'm not getting much of that time. I love having time to myself to cook, or read, or just sit. Whilst I can be an extrovert when I need to be, I'm actually very introverted and I love being by myself to recharge. I LOVE running workshops and I love knowing that it is helping people but I also find them the most draining experiences. Anyway, it's time to dial into my body before it shuts down on me and I know when I am feeling like this there's a few things that need to happen.
The Caffeine needs to take a vaycay because it's over stimulating me and not in a good way. I am subbing in lots of broth as well as Tulsi tea which is fab for supporting the adrenals & supporting stress.
I need to meditate. I occasionally use the app Smiling Mind before bed but I need to do it EVERY night. G has started listening to the kids one before she goes to bed too and she loves it.
I need to not push my body. The thing with adrenal fatigue is that intense exercise gives you the endorphins that you are craving so you can feel energised but too much intensity is an extra stress on your body that it just doesn't need when it's already stressed. Calming activities like yoga, walking and low intensity weight training are probably a better option. I am going to make sure I don't push myself if I am feeling flat, but I'm not sure I'll willing to give up my twice a week boxing sessions just yet…
I need to make sure I'm getting in enough carbs. Because I tend to follow a more 'paleo' template I naturally have a lower carb diet than the standard Australian diet and my carbs come mostly from fruit and veggies. I often find that if I am not making a conscious effort to get in enough starchy veggies I can be pretty low carb/keto most of the time without consciously trying to be. USUALLY I feel good eating that way BUT I know my body well enough though to know that when I am feeling like this and my sleep is suffering I need to make sure I am incorporating these good carbs in, especially with my dinner to help my sleep. Hence the sweet potato wraps…. So on with the wraps hey!
These wraps are the goods. I'd suggest making a double batch because 6 wraps just ain't enough in my opinion. These are the perfect vehicle for getting pulled pork, shredded lamb or chicken  from your plate to your mouth. We had ours this time as fish tacos loaded with fresh slaw, kimchi & homemade lime mayo.  They'd also be a stellar brekkie burrito wrap or even stuffed with some BBQ chook & avocado for a lunch on the run.
I tried making this recipe with almond meal instead of tapioca flour as well for a lower carb option but they just don't hold together as well, they do however, make an excellent mini pizza base if you pop them in the oven & crisp them up a little more. Feel free to take that for a spin if you like.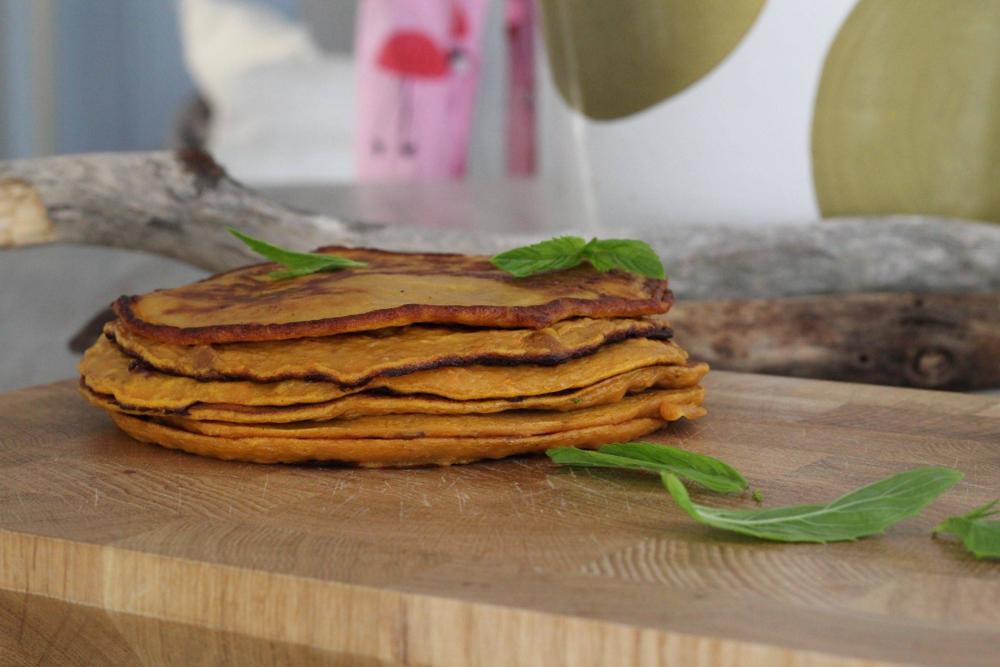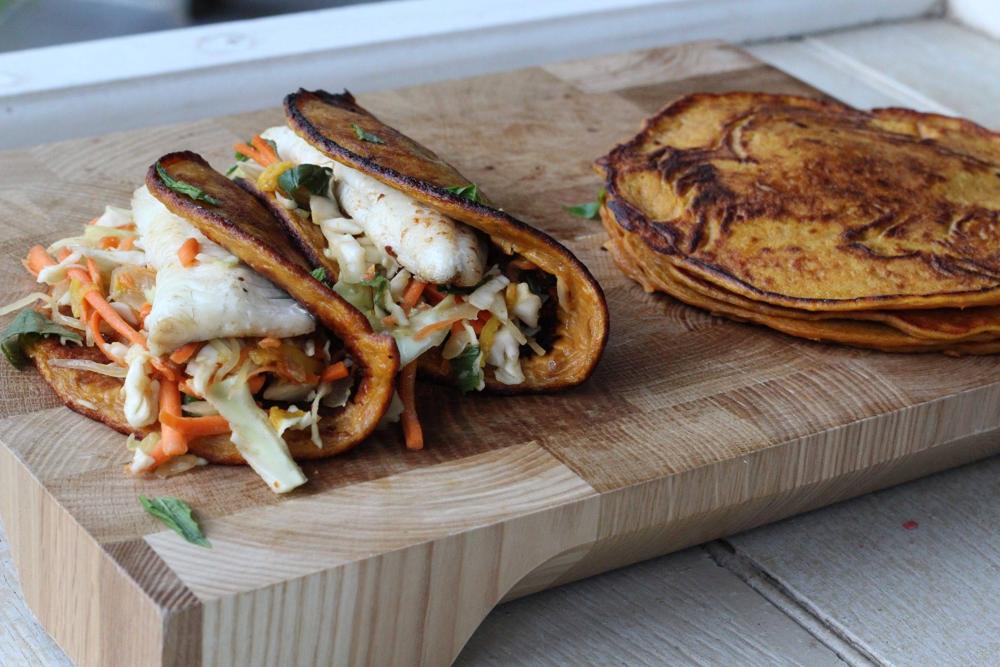 Sweet Potato Wraps
Ingredients
4

eggs

1.5

cups

mashed sweet potato

1/2

cup

milk of your choice

1

cup

tapioca flour (arrowroot is fine too)

2

tsp

Meadow & Marrow Bone Broth Concentrate

OPTIONAL
Instructions
In a food processor or high speed blender, blend all ingredients together until smooth.

Heat a small frying pan with a small amount of coconut oil or oil of your choice. Once hot, spoon in a few spoonfuls of batter and spread around so it's a nice thin even layer (approx 1cm thick max).

Allow to cook well on one side before trying to flip it. You should see the edges start to lift and brown. Flip it, cook on the other side, pop it on a plate to cool and continue this process with the rest of the batter.

I used these as a wrap for fish tacos but they'd be awesome stuffed with anything.
43