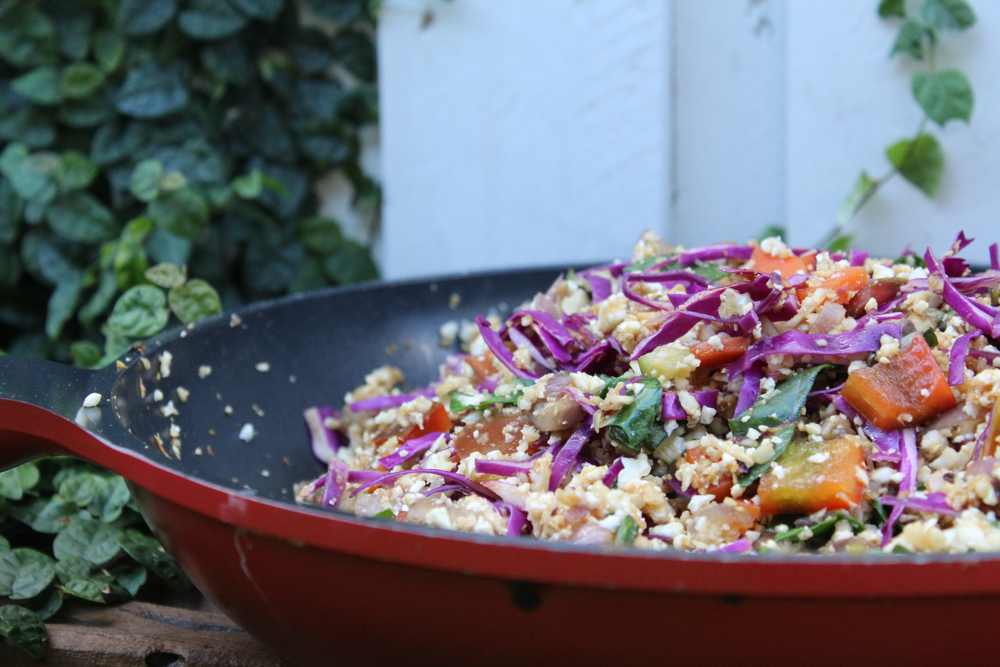 This is fried rice, but not as you know it. You know how all the keto, paleo and low carb peeps like to remove all joy in your life and replace it with cauliflower? Yeah, this is that. I am going to be completely honest though and tell you that this actually tastes epic so I'm not a total joy-kill. Not only does it taste great, it's nailing ALL the serves of veggies so you are basically now #health and can go and take a yoga retreat in Bali. Plus you'll have great poos, because vegetables. This is great hot or cold and I strongly suggest making a big batch because leftovers are the bomb and require you to give many less f*cks the next day about what you are going to have for lunch. If you'd like to whack in some cooked and cooled rice as well as the cauliflower you'd be giving all your gut bugs some fabulous resistant starch to keep them thriving too which is another big thumbs up from me but you do you boo.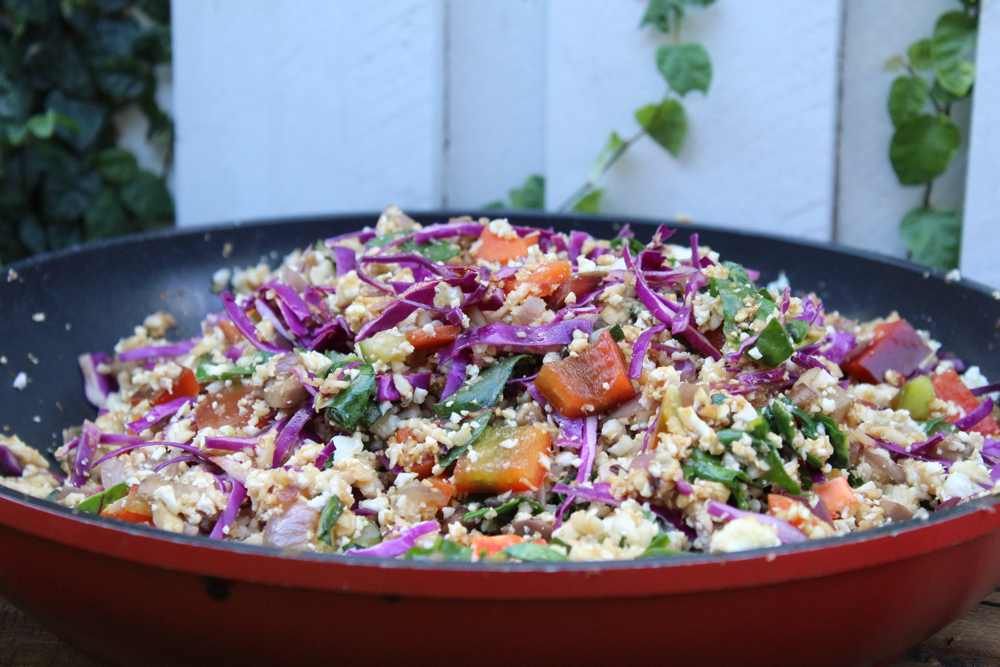 Paleo Fried Rice
Ingredients
2

cloves

garlic, crushed

1

lge red onion, finely diced

1

head cauliflower

riced

1

carrot

diced

6

mushrooms

diced

1

zucchini

diced

1

red capsicum

diced

1

cup

shredded cabbage

5

tbs

Coconut aminos or tamari

Salt and pepper to taste

4

rashers

bacon, diced

omit if vegan, obviously.
Instructions
To 'rice' your cauliflower- Grab florets of cauliflower and pop them in a food processor and pulse until they resemble the texture of rice. Don't over blend or it will turn to mush.

Take a large frying pan and heat over a med heat with about a tbs of oil of your choice (I used coconut oil). Add garlic, onion, bacon, mushrooms & carrots and saute until the onion is translucent.

Add capsicum, zucchini and cabbage and saute until just cooked to your liking, Add cauliflower rice and aminos and cook until just heated through. This won't take long!

Remove from heat and serve. You can add egg, peas, corn etc to your fried rice as well, I tend to just use whatever is left in the fridge.
21