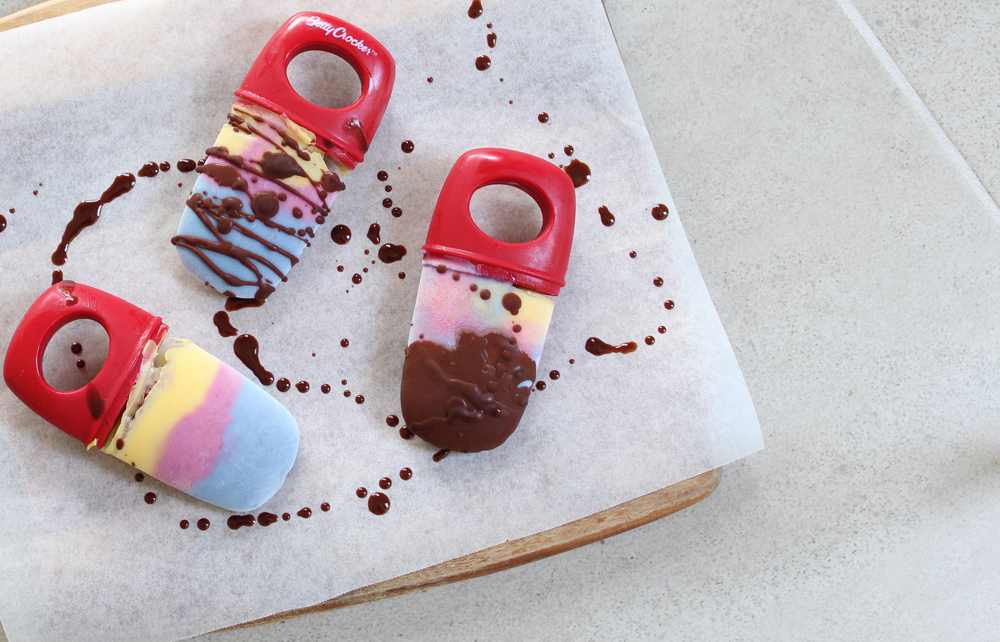 I was at a cafe the other day with G and there was a big sign advertising all the ice creams they had available. In standard 4 year old style she asked for pretty much every item on the sign which was consistently met with the same answer, negative ghostrider. The negotiation for not embarking in a full blown meltdown (because 4) was that we could make some ice blocks when we got home. Of course she asked to make rainbow paddle pops, *face palm, and of course I had to oblige because asshole parent wouldn't let her eat the other junk from the shop so this was my alternative.
After the fun that was G's Rainbow Unicorn Ice Cream cake (you can see my instagram for the details) I thought we'd be able to run with a similar situation…. until she insisted that they MUST have blue in them. Blue. Blue people. That is NOT an easy colour to achieve without food colouring. Don't suggest blueberries, they go purple. MUST have blue. Not purple. Blue. So we hit up the only place I thought might save my hide The Source Bulk Foods at Bulimba and hallelujah, they had BLUE SPIRULINA! That jazz isn't just some kinda greeny blue. It's blue. Bright blue and PERFECT for what we needed! Hot tip, it's friggen expensive BUT the best thing about The Source is that if you only need a couple of teaspoons, that's all you get. PERFECT. And then the fun began. We blended, we mixed, we poured, I knocked and entire full ice block mould onto the floor, G dobbed on me, the dog got involved, I eventually cleaned up the $hit show in the kitchen and these paddle pops were the end result and I reckon we nailed them!
If you want to make these keto friendly I would suggest fermenting your fruit first to help reduce the sugar content but if you plan on feeding these to kids I'd strongly advise not doing that as they will throw them back at your head if they aren't even a bit naturally sweet. If you want to ferment your fruit you can find all the details over here.
I dipped mine in homemade chocolate after they set, more for my benefit than G's but it was delicious. That step is totally optional if you CBF'd. I didn't measure anything to make the chocolate (soz) but added melted coconut oil (no need to melt it here as it's currently surface-of-the-sun hot), cacao and a dash of honey. That's it.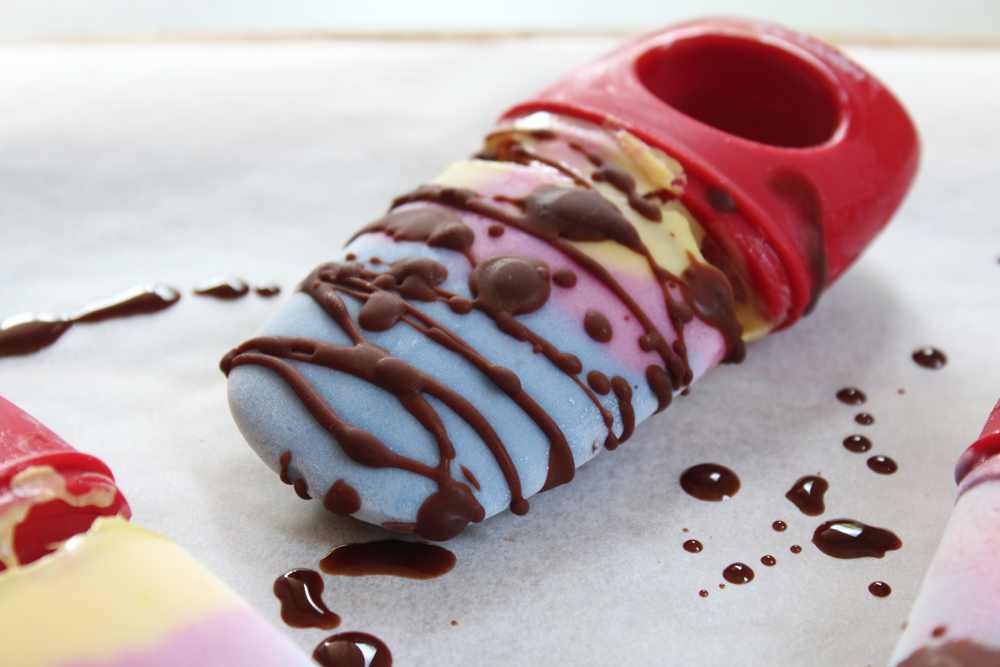 Rainbow Paddle Pops
Ingredients
2

frozen banana's

1

peeled zucchini

chopped and frozen

1/2

cup

cooked and cooled cauliflower

optional

1/2

cup

frozen mango

1/2

cup

frozen raspberries

1

tsp

pink pitaya powder

1-2

tsp

blue spirulina

1

cup

natural coconut yoghurt

I used Pure N Free brand

3

tbs

collagen powder

optional but a great source of protein and great for gut health
Instructions
In a high speed blender or food processor blend together the yoghurt, banana, zucchini and cauliflower until smooth then seperate into 3 bowls.

Pop 1/3 of the mix back into the blender and blend with the mango until smooth. Pour into the bottom third of your popsicle moulds and set aside.

Take the next bowl of mix and blend in the raspberries and pitaya powder until smooth. Pour on top of the mango layer.

Take the last bowl and stir through the blue spirulina, add more spirulina to get to the colour you want. Add this final layer to the popsicles before popping the sticks in and putting them in the freezer to set for at least 4 hours.

You can do the same process to create a rainbow smoothie bowl.
12