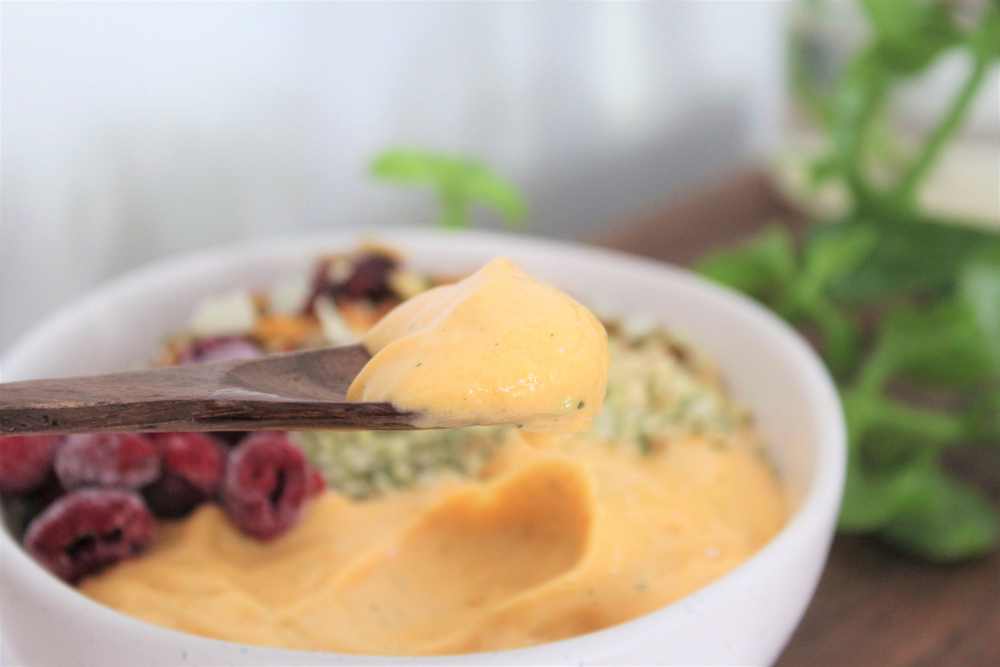 Holy heat Batman. I know this is a fairly stupid thing to say because Queensland summer. But, holy crap it's hot. Like 37 degrees. It hot. Anyway, I'm not just going to come to you with problems, I have solutions and my solution to living on the surface of the sun like this is smoothie bowls. Frozen things are the only answer to this  issue and while a store bought smoothie bowl or acai bowl is an easy fix, if you are downing those bad boys on the daily you might want to reconsider your life choices for a few reasons; Number one, they will generally set you back about $16 a pop. Unless you are Richie Rich, just no. Number two, the average store bought smoothie bowl contains about 40g of sugar. Yes you read that correctly. 40g. That's 10 teaspoons. Yes it's 'natural sugar' from fruit and yes it contains some vitamins and minerals but your ass doesn't descriminate 'natural' sugar from highly processed sugar and if you don't need it for energy it's getting stored. No-one needs to be kick-starting their day with 10 teaspoons of sugar, the insulin crash on the other side of that ain't going to be pretty. Now I have nothing against fruit, I actually love fruit, especially summer fruit but we probably don't need all that fruit in one hit as a replacement for some more nutrient dense options. You can read more about my thoughts on acai bowls right here if you fancy.
I have chosen to ferment my fruit first to help reduce the sugar content, super-charge the nutrients and add lots of good gut loving probiotics but it's not a necessary step (unless you want a keto bowl) and this bowl doesn't have anywhere near the 40g of sugar as a bought version so please don't stress about that step if you CBF'd. If you want to know how to ferment fruit Jordan Pie is my go-to girl on this and you can find out all you need to know in this post. As usual I have snuck some veggies into this bowl because we all need more veggies in our life, I have added collagen (I get THIS ONE) for protein and gut healing. Collagen is also the building blocks for our hair, skin, nails and joints. Plus, it's cheaper than botox so get on board. It's flavourless and dissolves in hot or cold liquids so I add it to my coffee, tea, smoothies etc. I also pimped this with some coconut yoghurt for a good dose of healthy fats to keep me feeling fuller for longer and some good probiotics.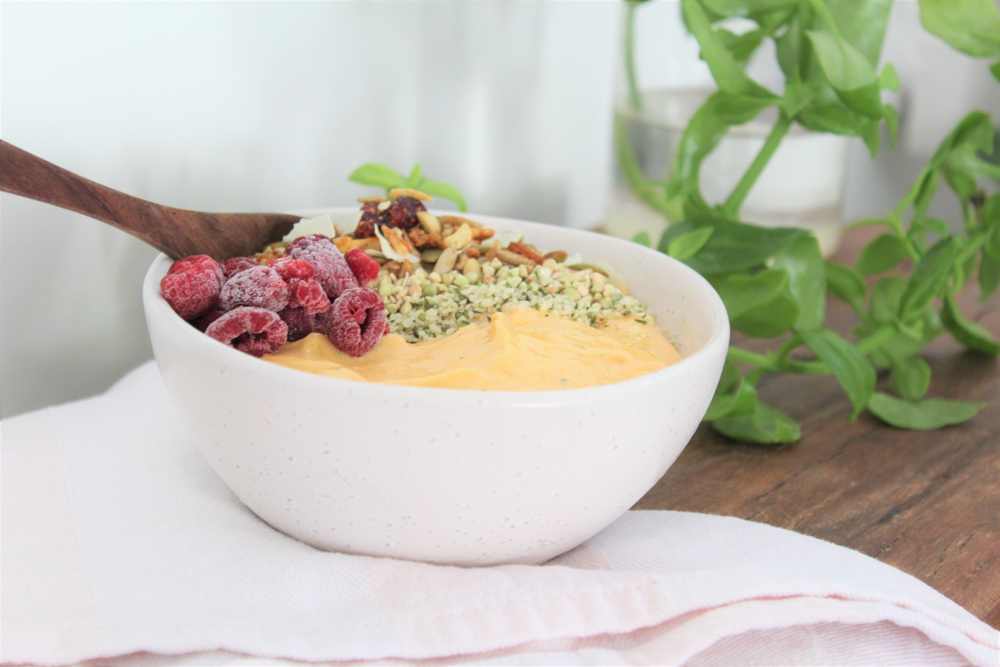 Mango & Papaya Smoothie Bowl
Ingredients
1/2

cup

natural coconut yoghurt

you can use regular dairy yoghurt if you prefer

1

cup

frozen mango

mine were fermented then frozen

1

cup

frozen red papaya

mine were fermented then frozen

2-3

tbs

collagen powder

you can use another type of protein powder if you like

1/2

frozen zucchini

chop before freezing

1/2

cup

frozen cauliflower

cooked and cooled before freezing

1

cup

your choice of toppings, I used Paleo Hero muesli, hemp seeds & buckinis
Instructions
In a high speed blender or food processor add the mango, papaya, zucchini and cauliflower and blend until smooth.

Add the collagen and yoghurt and blend again until combined.

Pour into a bowl and top with whatever spins your tyres that day. Any leftover mixture can be added into popsicle moulds and turned into ice blocks.
17