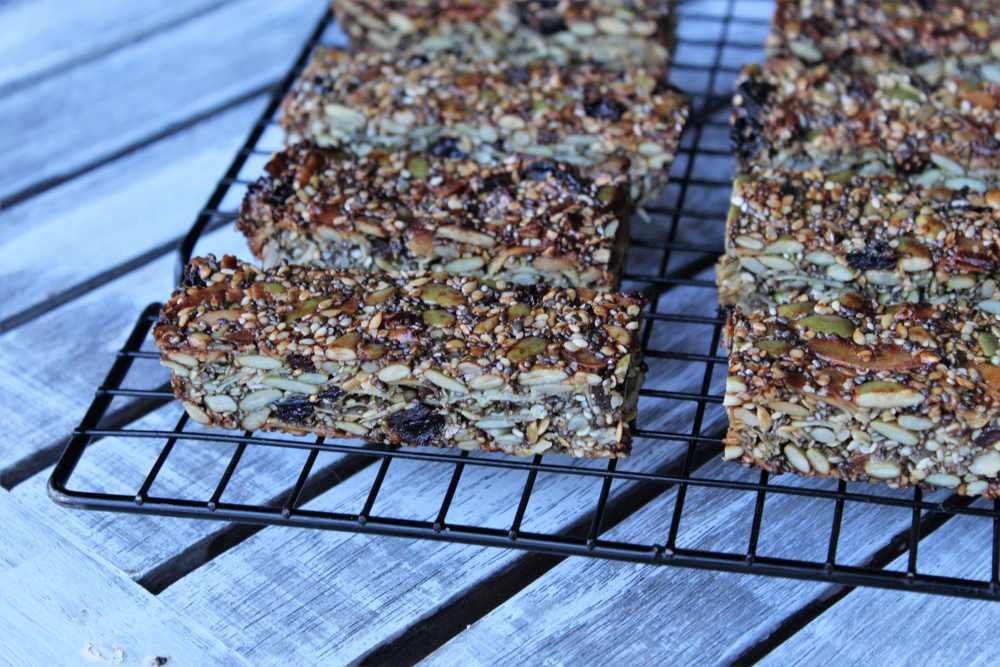 These bars are super seedy, not like the creepy dude hanging out at the park after dark, actually full of seedy goodness. Packed with healthy fats, protein, gut loving gelatin and calcium, this is the perfect lunchbox/ gym bag/ afternoon snack.
If you guys hang with me over on The Gram you will know that I'm a huge fan of COLLAGEN powder and add it into ALL the things. Collagen is the building blocks of our hair, skin, gut lining, nails, joints, it aids muscle recovery and joint repair, it's cheaper than botox and it's about 97% pure protein. Historically speaking our ancestors would have naturally consumed far more collagen in their diets than we typically do today due to the fact that they would eat nose to tail and consume all the 'jointy' cuts of the animal like the bones, skin, shank, cheeks, tail etc that we tend not to do so much these days. Collagen is one of the very few things I choose to supplement with very regularly because of all its health benefits. It can be very useful to help heal and seal a leaky gut lining as well as contribute to general wellness.
I add it to my morning coffee, smoothies, Grace's breakfast, meatballs, bliss balls….. pretty much anything. It's flavourless and dissolves in hot or cold liquids. The two main brands I get regularly are The Great Lakes and the Dr Axe from iHerb. Gelatin has all the same health benefits but will actually 'gel up' in cold liquids or in the fridge so it's ideal for making gummies, or things that you want to stick together like these bars. It's going to turn your smoothie into a thick, gluggy mess though so probably give that a miss.
If you wanted to make these bars keto-friendly just swap out the honey for some stevia, monk fruit sweetener or sweetener of your choice. You can also swap some of the seeds for nuts if you don't need yours to be nut-free. If you choose to use the coconut oil instead of cacao butter just be aware they may not fare so well in the heat of Summer out of the fridge.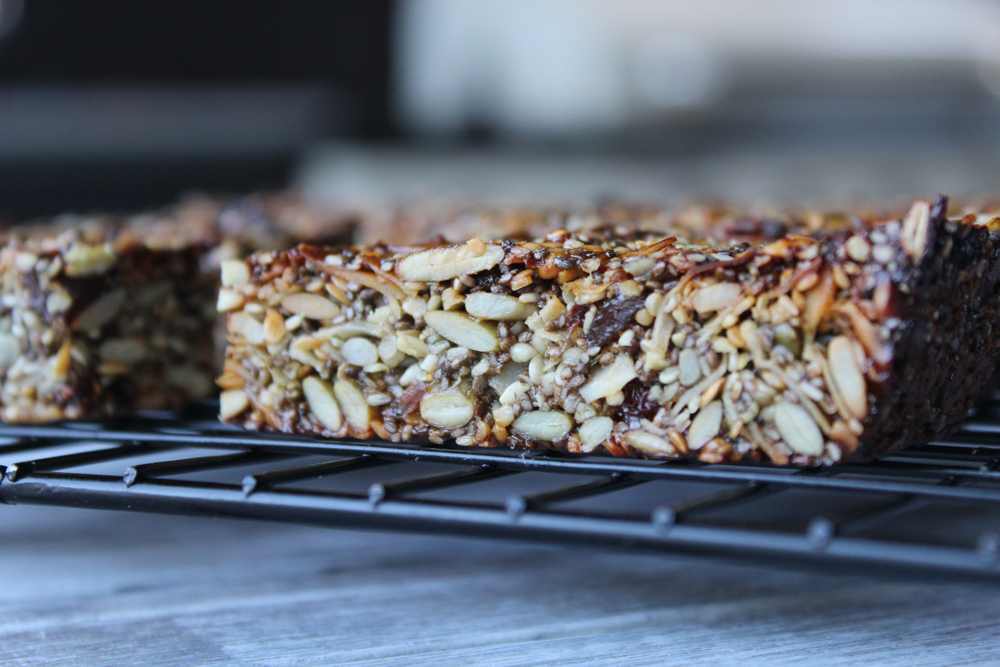 Super Seedy Bars
Ingredients
3

tbs

Gelatin

1/2

cup

water

60

g

cacao butter

or coconut oil

1

tsp

cinnamon

1/2

cup

honey

1

cup

coconut

1/4

cup

sesame seeds

1/4

cup

sunflower seeds

1

cup

pepitas

1/8

cup

flaxseeds

1/2

cup

hemp seeds

1/2

cup

chia seeds

1/2

cup

preservative free dried fruit

OPTIONAL
Instructions
Preheat your oven to 180C.

Add the water to a bowl and sprinkle in the Gelatin. Mix well and allow to bloom. (Bloom just means to leave it to stand and swell, nothing fancy.)

Melt cacao butter (or coconut oil) then add the honey and cacao butter to the gelatin mix and stir well to combine.

Add all the dry ingredients to a large bowl and mix well. Pour over the gelatin liquid and stir well to combine and coat everything well.

Bake for 25-30 mins until golden on top. I chopped my bars and then re-baked for an extra 5-10 mins to make them extra crunchy but you do you.

Store in the fridge for up to a week or the freezer for up to 6 months.
23