Stuffing stuff is awesome. There's not much you can't stuff. Potatoes, sweet potatoes, capsicum, eggplant, zucchini, those big-arse mushrooms that are almost the size of a plate. You get where I'm going. You don't want to stuff potatoes? No drama. Stuff something else. Just get stuffed. The other great part of getting stuffed is that you can stuff it with whatever you like! Asian style, Mexican, Indian flavours or just a leftover mash-up of whatever's in your fridge leftover from the week. Mine's a leftover mash up but you do whatever spins your tyres and make them as fancy as you please. I think some leftover taco mince, homemade guacamole etc would be epic.
4 small sweet potatoes (or 1 or 10- depends how many you're feeding)
Olive oil to drizzle
Whatever you want to stuff your stuff with. I used-
1 cup mushrooms, chopped
1 zucchini, diced
1/2 red onion, diced
1/2 red capsicum, diced
Big handful kale, shredded
Big handful red cabbage, shredded
Preheat your oven to 180C. Line a tray with baking paper. I don't peel my sweet potatoes, I just wash them. Pop the sweet potatoes on the tray and drizzle with a little olive oil. Bake for about an hour or until soft to touch. It could take up to 90 mins depending on the size of your potatoes but just whack 'em in and go and binge watch some Suits until they are ready. You don't watch Suits? Take a good, hard look at yourself and make better life choices.
Take all the stuff you are going to stuff them with and sauté it in a frying pan until it's about 3/4 cooked then remove.
Take your cooked sweet potatoes, cut them down the centre and use a spoon to push the filling to each side so you have a nice little galley in the middle for all the good bits. Stuff them choc-full with all the stuffing bits. Now would be a cracking time to sprinkle some cheese on top if you can handle it or even a good drizzle of homemade mayo. Whack them back in the oven on about 200C for 15 mins then dig in!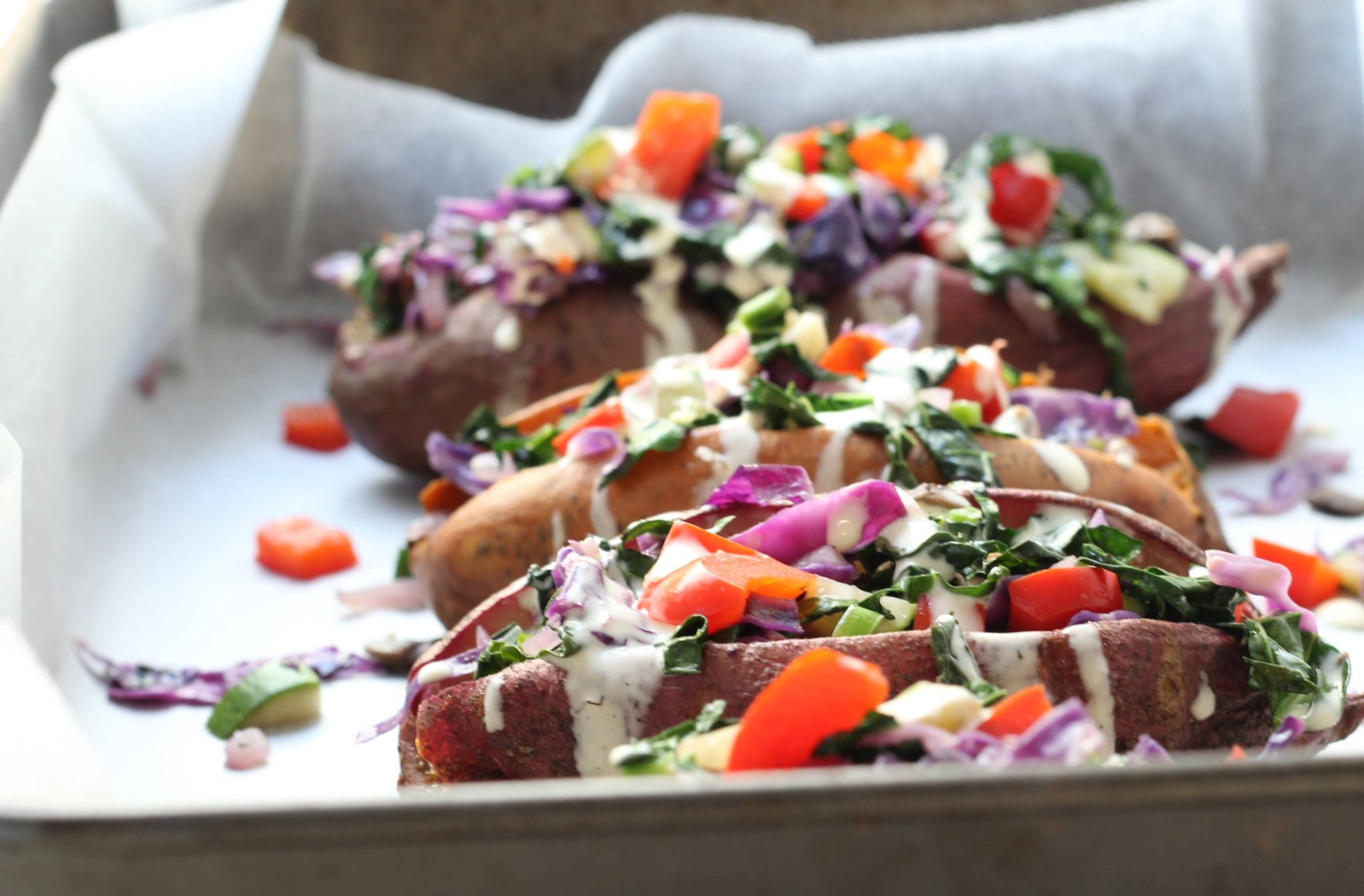 10